As geo-location and real-time mapping begin to play a larger role in online advertising, a distant fear looms on the horizon. For quite some time, publishers have been granted the benefit of supposed "free" products such as Bing Maps or Google Analytics, with little thought to the real cost of these services. However, all of that will soon change. With usage charges for services like Google Maps set to begin in January, exploring alternative solutions that are free, or in some cases paid, have taken top priority.
For publishers who operate a high volume site on which they depend for a major source of income, new charges like those announced by Google, can make or break their business. Google officially rolled out new usage limits for the Maps API, with extra usage charges of $4 to $10 occurring for every additional thousand maps loaded over the 25,000 impression allotment.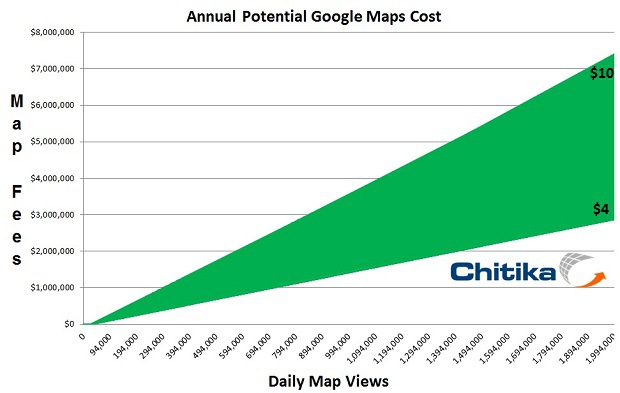 Alternative Solutions
Based on projections, publishers who load 500,000 map impressions per day could expect to pay from $1900-$4750 in usage charges each day. Publishers currently using Google Maps would have two options to avoid such charges:
Transition away from map units and potentially lose the higher margin and added utility
Continue using map units and acquiesce to the higher costs
A third option would be creating maps in-house. Open Source Maps is a tool that allows developers to utilize free geographic and street mapping data – although this comes at a price. Open source options require significant investment of time and capital to get up and running, but will serve as a viable alternative to some of the 4,000 websites affected by the change.
Another solution would be to use a service like Chitika Maps, one of the only free alternatives which comes packaged and ready to implement with much of the same functionality and aesthetics offered by paid map services. These new map units have been tried and tested and are currently called over one million times per day on Chitika's vast publisher network. Furthermore, Chitika Maps provides an opportunity for publishers to enjoy new revenue streams by opting to include ads within map units for local advertisers, helping to monetize websites. (Full disclaimer: I am a Data Solutions Engineer for Chitika Insights, the independent research arm of Chitika. However, Chitika Maps is currently the only free and paid maps alternative on the market).


What's Next?
As the site monetization landscape continues to develop and be affected by shifting forces in the industry, it is becoming ever more important for publishers to be able to react in real time and adapt monetization strategies to minimize cost and create new revenue.
Whether or not businesses choose to seek out alterative map solutions, it's important for everyone to be aware of looming usage charges that will impact thousands of sites come January.