Google is starting to allow multiple sign-in to some users as noticed by Alex Chitu of the Google Operating System blog. To check whether this is already enabled on your Google account, visit your Google Accounts Page and check if the multiple sign-in option is already appearing under the Personal Settings tab. I don't see it yet on my account but some users reported that they have seen the option already. Google has also not officially announced this yet.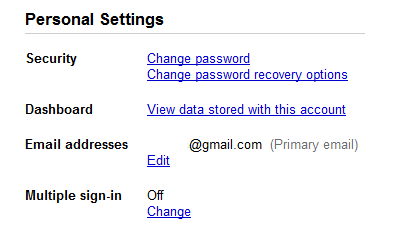 Anyway, what multiple sign-in allows you to do is to simply switch from your other accounts while using Gmail, Google Calendar, Google Sites, Google Reader, Google Voice, App Engine and Google Code. So if you maintain several Google accounts like I do and you want to check it out while log-in to your default Google account, you will have the option to change account via a drop-down menu and you don't need to log-out of your default account anymore.
The new feature also eliminates the need to open multiple browser just to log-in to your different Google accounts. Google does not allow multiple log-in using multiple tabs on a single browser. So, what other users did before was to simply to use different web browser to access their Google accounts. This new multiple sign-in feature totally eliminates the need for this work-around.
No words yet on whether Google is rolling this feature out to the public anytime soon. But if you're one of the selected Google users who've seen this feature already in your account, you might want to share your experience on how the new feature goes.