Google has just announced via a post on the Inside AdSense Blog that multiple Google-certified ad networks will soon be competing with AdWords advertisers to appear on AdSense sites. This means that non-AdWords publishers will soon be able to bid on Google ad auction.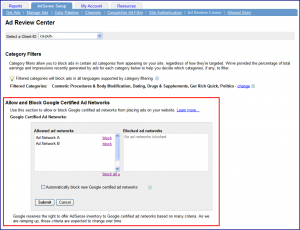 For AdSense publisher this means new ways of generating revenue from their display ad space. While for AdWords advertisers, this would mean some adjustment on their ad campaign allocation and budget to compete against these ad networks on prime display ad spots.
In addition, AdSense publishers will also be given full control of which ads from these ad networks they would want to appear on their sites. Google will certify all participating ad networks for adhering to Google's standards for user privacy, ad quality and speed. Publishers can also opt not to let any ads from these ad networks and have only AdWords ad units to be displayed on their sites instead.
Additionally Google will also not allow these ad networks to collect any user data to be used for internet-based advertising.
This new feature will be initially available for AdSense publishers in the U.S. and Europe.