Google recently announced they will be testing incorporating Gmail into their search results.
"Sometimes the best answer to your question isn't available on the public web—it may be contained somewhere else, such as in your email. We think you shouldn't have to be your own mini-search engine to find the most useful information—it should just work. A search is a search, and we want our results to be truly universal."
How does it work?
If you are taking a trip to Tahoe and want to learn more about biking, Google would pull up information about biking in Tahoe into the main organic SERPs. Additionally, they will search your Gmail inbox for emails, including the terms "biking in Tahoe," and deliver those results on the top, right hand side of the SERPs, giving you access to personalized information regarding your keyword.
Currently, this is a limited trial and will not be available to the general public. Gmail users who are interested in testing the feature can opt in using their Search Experiments page.
Some Examples of Gmail Integration into Google SERPs
Results for the keyword "camera"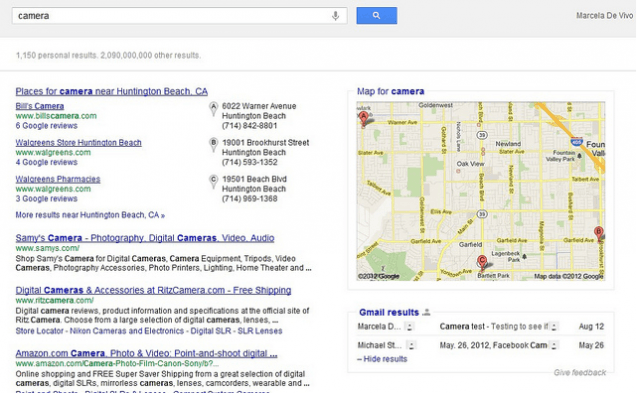 The first result on the right is the map, which seems to be the preference when the keyword is geographically relevant. The second result is a test that I sent from one of my other Gmail accounts. Within 15 minutes, it appeared in the SERPs. The keyword is included once in the subject and once in the body. The second result is from Michael Stelzner, a trusted email source, as I get emails daily from Social Media Examiner.
Results for the keyword "conference"

In this SERP, the top two are an exact duplicate of an email that was listed in a couple of LinkedIn groups. They each contained the keyword "conference" once in the subject and four times in the body. The third result is older and doesn't contain the keyword in the subject, but it does have the keyword four times in the body. The last email contains the keyword three times in the body.
Results for the keyword "piano"
The word "piano" is not in the name of the sender or in the subject, but it's listed five times in the body of the email.
Results when I click on the email from the Gmail SERP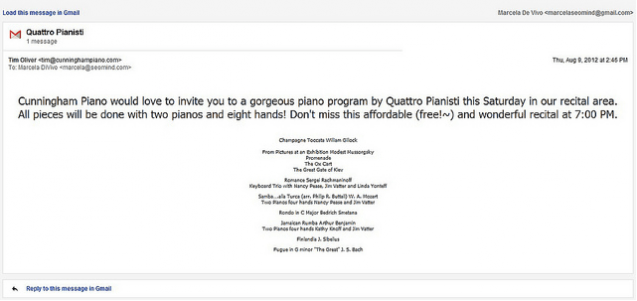 When I click on the email from the SERPs, it opens into a page with a display of the mail. To reply or interact with the email, there's a link on the top left to load the message in Gmail.
Results when I type "Tim" into Google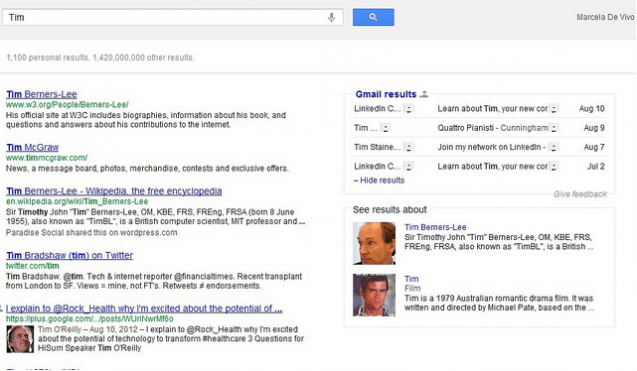 The search engine pulls up results both when the name is in the sender and when it's in the subject or body of the email. Gmail results are priority over other potentially relevant results.
Observations from initial tests
Google is pulling up between one and five results from Gmail.
Results are very quick, and an email sent with the relevant keyword will appear within 10-15 minutes in the Gmail SERPs.
Keyword density seems to be a factor. At the moment Google seems to be relying on "exact matches" as on every query, the exact term was found matched in either the from field, subject, or body.
How recent the email is seems to be a big factor, with newer emails are ranked at the top.
In cases where there is a relevant local results page, Google will serve the map above the Gmail results.
In cases where there are relevant shopping results, no Gmail results appear in the SERPs.
What Can Internet Marketers Do to Prepare?
Now you can use email marketing to gain prime visibility in the SERPs.
For example, if you have purchased from Walmart in the past and subscribed to their email list, you should be receiving emails from them with current promotions. Let's say you decide you want to buy a new digital camera. If Walmart sent you an email at one point advertising a sale on digital cameras, Google would serve a link to that email in the SERPs.
If you have purchased from a company or subscribed to its email newsletter, Google assumes that you consider these trusted sources, thus furthering Google's agenda of relevance and personalization.
It's Time to Get Serious About Your Email Marketing Campaign!
If you want to take advantage of this unique feature, you're going to need to be on top of a few different disciplines:
Email Marketing
Keyword Research
Copywriting
First, email marketing. A lot of SEOs are unfamiliar with this aspect of marketing because they focus almost solely on search engine optimization. This is going to become an increasingly large mistake as the years go on, and Google is making that very evident with this new change. Your point to need to be more of a jack of all trades when it comes to marketing, and email is a great place to start. Get yourself acquainted with the standards of email marketing, including:
Mailing Platforms
Templates
Marketing & Sales
Email Analytics
Once you get a hold of these, it's time to start emailing out to your lists. Make sure to provide a good blend of value and selling, otherwise you're going to be seen as spammy by a majority of the people on your list. While we can't say for sure, it's our best guess that Google is going to favor those who have high deliverability rates, high open rates, and high clickthroughs—similar to their AdWords platform.
The interesting thing about this blend of email and search is the usage of keywords in emails. Now it will actually be important to select keywords that are actually searched for when you write out your email copy.
In the past, you could simply focus on whatever would get the highest open rates—and that's still a viable strategy. But if you want to show up in Google's search results with Gmail implementation, it's our best guess that Google is going to put some heavy weight on the keywords that show up in your emails.
How Can You Optimize Your Email Marketing Campaign for Improved Visibility?
It's safe to assume Google will be considering emails as simply another form of content and will be applying the same ranking factors that they use for websites. When we consider emails are standalone pages, this eliminates many of the SEO elements that we are normally concerned with, leaving just the simple on-page SEO criteria, including keywords in:
From
Subject/Title
H1
H2
Body
B / strong
Img Alt
Img Title
Anchor text
Additionally, it's important to consider how the keyword is included. For example, what is the keyword placement in the title of the newsletter? Is the keyword an exact match? Do you use synonyms? How often is the keyword mentioned in the body of the article What is the keyword density for each of these fields?
In other words, it's time to brush the dust off all of your keyword density tools and start thinking of incorporating on-page SEO elements into your newsletters.
Steps to Follow to Create Keyword Optimized Email Newsletters
1. Perform a comprehensive keyword research.
If you don't already have an exhaustive list of keywords to target for your site, it's time to go back to the drawing board and create it. Group your keywords in buckets and include primary, secondary, and long-tail keyword terms.
2. Plan your editorial calendar and work keywords into every email.
If you have 100 keywords that you want to target, and you are sending out emails once a week, prioritize your keyword list and then choose "buckets" of keywords to be included with each of your newsletters. Treat each and every email like an SEO landing page and incorporate the primary, secondary, and long-tail keywords into each of the newsletters.
3. Email your customers more often so you have more chances of getting found, using great keyword variety.
Perhaps in the past you were happy sending emails once a month to your customers. You may want to consider increasing the number of emails that you send out, as well as the content length of each email. With each email you can include a new set of target keywords.
4. Add tags to your emails using various keywords for every product.
You may want to consider adding tags at the footer of your emails with target keywords.
5. Add links to related products.
Perhaps you weren't linking to related products on your emails, as you assumed that readers would visit your pages and see related products on your site. By adding related products to your email newsletters, you can now increase the amount of keywords that you can be found for.
Anatomy of an SEO-Friendly Email Template
Source: InboxVision
Header: Featured Promotions
Articles: Include keywords in the title of the article, H1, first sentence, and in the link to the full article.
Social Media Integration: Links to social sharing icons.
Right Nav: Links to the articles with keywords. You can also add tags and related products on the right nav.
Links with Anchor Text: Add links with keywords in your anchor text (above header image in this example).
Be Prepared!
It's impossible to know if, or when, Google will roll this feature out to mainstream users. It is safe to assume that, given their trend towards personalization and relevance, this feature will soon be fully incorporated into the search results page. Start including on-page SEO elements into your email newsletters to have a foot up on the competition!