Google's next order of battle for Google Buzz – Share Buttons. If you've felt envious of sites such as TechCrunch and Mashable which were quick enough to come up with their customized Google Buzz Share Buttons, Google will now let you do the same without having to hack through some codes and all. And it's also the official Google Buzz Share Button.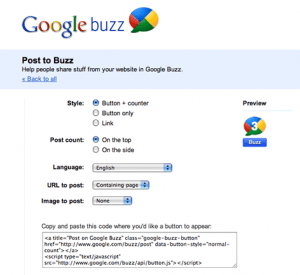 So Google announced that starting today expect to see Buzz buttons around the web particularly on sites such as The Huffington Post, Glamour, YouTube, Blogger, MySpace, GigaOM and more. These buttons will make it easier for you to share and post interesting items you encounter around the web to your Google Buzz account.
In addition, independent sharing widget provides such as "Share This," "Shareholic" and more have started implementing the Google Buzz share button.
If you want to have a Google Buzz button on your own sites/blogs, you can easily do so by getting the codes from buzz.google.com/stuff. You can customize your button in a few clicks, copy the Javascript code, paste it to your blog/site code and you're good to go.
And while you're there, you might also want to grab the code for putting a follow me on Buzz button as well. This will make it easier for your friends and fans to follow your Buzz posts.