Within the next week, Google will be slowly rolling out an easier Google Offers builder, which work in tandem with Map listings. This news came from Gayathri Rajan, Director of Product Management, Google Offers, on the Google Commerce blog:
Today we're introducing an updated self-service tool for all businesses in the U.S. to easily create offers and attract customers to their stores. Using the simple offer creation tool, businesses can create their offer in minutes and showcase it to local customers across Google, including Google Maps.
Google Offers allows a business to create a coupon for a percentage or dollar amount off of a product or service, or for a unique offer, like Buy 1, Get 1 Free. Google Offers appear with a blue tag symbol next to a business' local listing: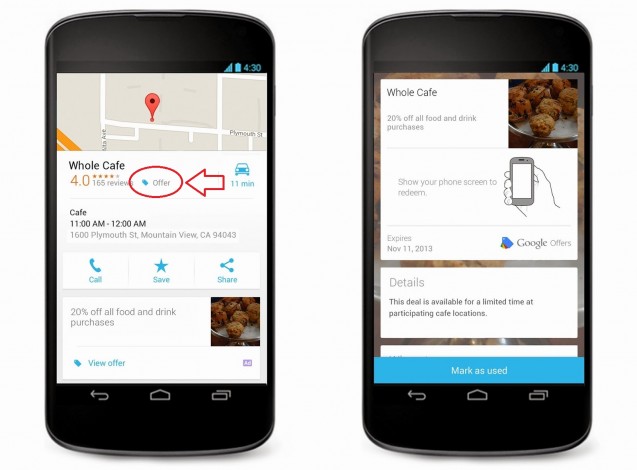 Users then show their screen to the business employee to receive the offer.
Google Offers, which now go live in a matter of hours after their creation by business owners, give customers an incentive to visit a specific business in their immediate geographical area:
Unlike traditional promotions or coupons, Google Offers will show your offer to customers based on their location, what they like, and what they're looking for. You'll only pay when a customer saves your offer, and you keep the full value of the sales you make.
And these options go beyond targeting customers who are searching while on the go. If customers visit Google.com/Offers, they are shown offers within their local area and can also search for deals in other cities around the United States.
However, Google is certainly pushing the idea of getting offers via mobile. On the desktop version of Google Offers, it points users to the new availability to find offers on their phone via the Google Maps app.