Google is really so into "social" right now. Aside from introducing the social gadgets for iGoogle to everyone, it is also enhancing the sharing features of Google Reader with the "Send to" feature. With this new feature, you can now easily send Google Reader items to Blogger, Delicious, Digg, Facebook, MySpace, Reddit, StumbleUpon and of course Twitter.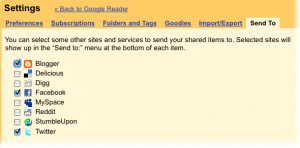 You can enable this feature from your Google Reader settings page. You can select which sites you want to share your Google Reader items to. Once this is done, the Send To link will appear at the end of every item in your Google Reader account. Simply click on this link and select which site you want to send the feed items to. If you are currently logged on to the site, Google Reader will quickly post it to the site you selected.
Aside from the "Send To" feature, Google Reader has also made it easier to subscribe directly to the sites of people you follow on Google Reader. Simply click on the name of the people you follow and if the person has registered the different sites on their Google Profile, you can immediately subscribe to their updates on a particular site other than Google Reader.
And finally, for items which you want to Mark as Read items, you can now mark these items as read based on how old they are.