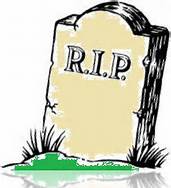 We have known about this day for quite some time. On this day, July 1st, Google officially shut down the Google Reader service. Some haven't noticed, others are in panic mode, and others are happily finding alternatives. You'll know tonight at 12:01 am the effect of this service being gone when you log into your Google Analytics account.
How are you feeling about Google Reader being gone? I wanted to take a quick minute to share with you some of the alternatives out there. If any of you have had experience with these, comment below. We're all looking for a new home!
AOL Reader – It's in beta, only available on desktops at the moment, allows you to extract your Google Reader subscriptions and share stories on social media.
Digg Reader – Many feel that this product was rushed and not up to their expectations.
Feedly – Has already signed up over 500,000 former Google Reader users.
Taptu – I've read reports that it's slow to use
Flipboard – It's only on mobile devices. Supposedly it's easy to flip through pages with a simple finger swipe.
What reader are you using?