Google has quietly rolled out a new feature for ranking and showing different aspects about businesses on Place Pages for Google Maps. The new feature will let you read reviews of business establishments as well as see how their fare through color coded rankings.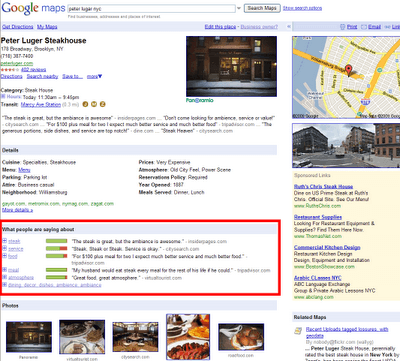 In case you forgot, Place Page is a web page for every place in the world containing snippets of information about a place. Place Pages for Google Maps cover businesses, points of interest, transit stations, landmarks and cities all over the world.
With this new feature, you can easily find out whether a particular place that you want to visit is really the best place offering whatever services you want to partake of. Place Pages will now contain information about what people are saying about different places, including full reviews and ranking relative to other similar business establishments.
The reviews featured on Place Pages were culled from various quality sources across the web. So, you are pretty much sure that those reviews are valid and accurate.
Interestingly, there are other major sites which offer similar services. We could quickly think of Yelp and City Search and can't help but be wary of how their userbase will be affected by Google Place Pages.