Google Posts is one of the more interesting, under-the-radar features to be rolled out in recent years.
It began during the 2016 U.S. presidential campaign as a way for politicians to showcase their opinions and values directly on the SERPs. The goal was to make it easier for voters to determine each candidates' stance on certain issues.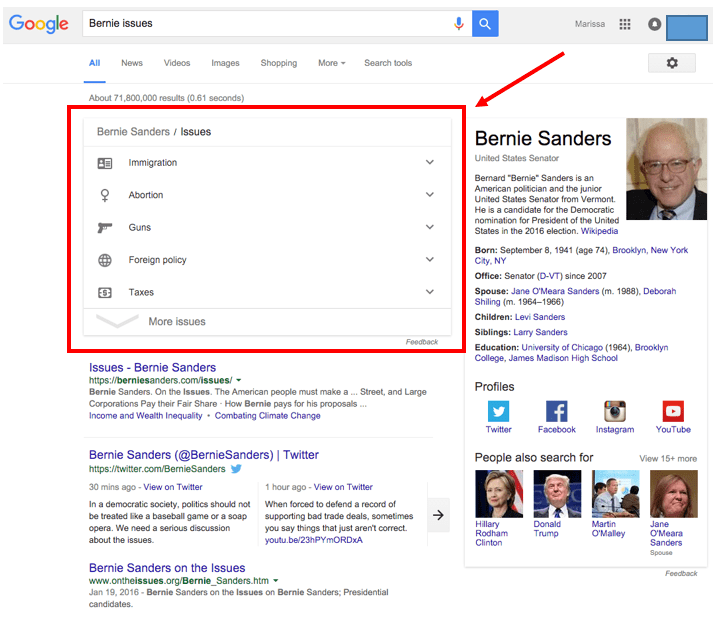 The system would then allow candidates to place quotes regarding the major topics of debate. At the time, these were called "Candidate Cards."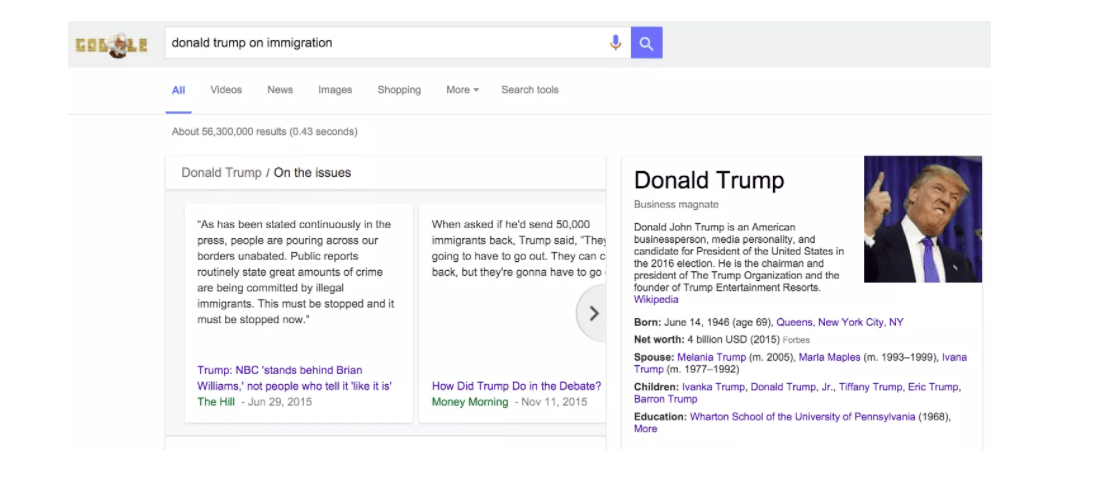 At first glance, this concept looked like a social network of sorts. Or a place to display tweets and statuses.
However, there was no networking aspect to it. Users couldn't like, comment, or follow.
By March 2016, this tactic had spread to the business world.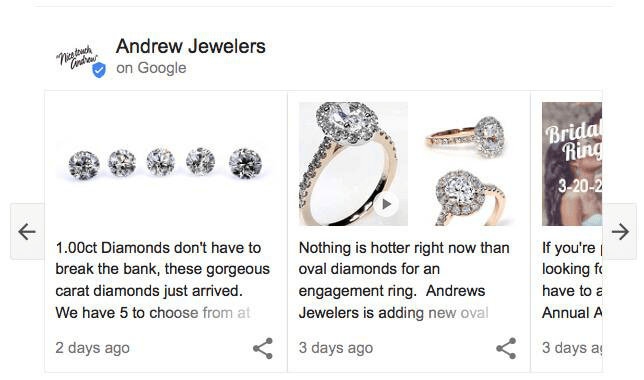 Nowadays, Google Posts are picking steam as a method for businesses to broadcast key bits of content and information directly on the SERPs. It is primarily used to share information related to:
Products.
Special offers.
Events.
Announcements.
The main purpose of these posts is to help local businesses connect with customers in the area. If a user searches for a business directly, the Post will be displayed in the same area as the contact and location information on the Google My Business listing.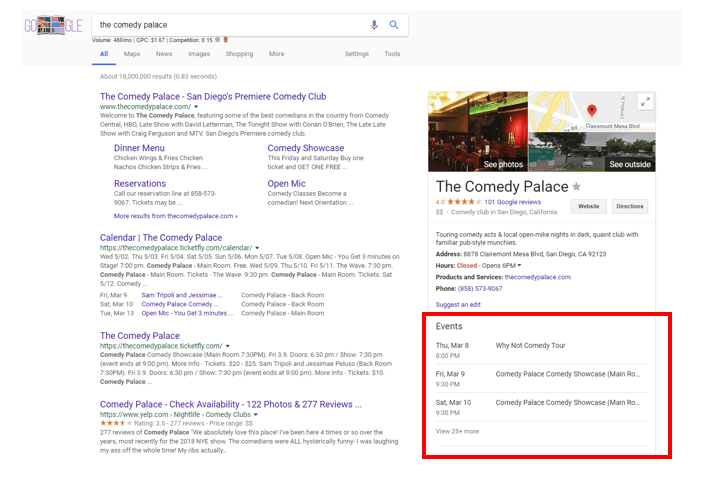 Products are displayed similarly:
If the search is more broad, this information will be shown if the user clicks on a certain business, like so: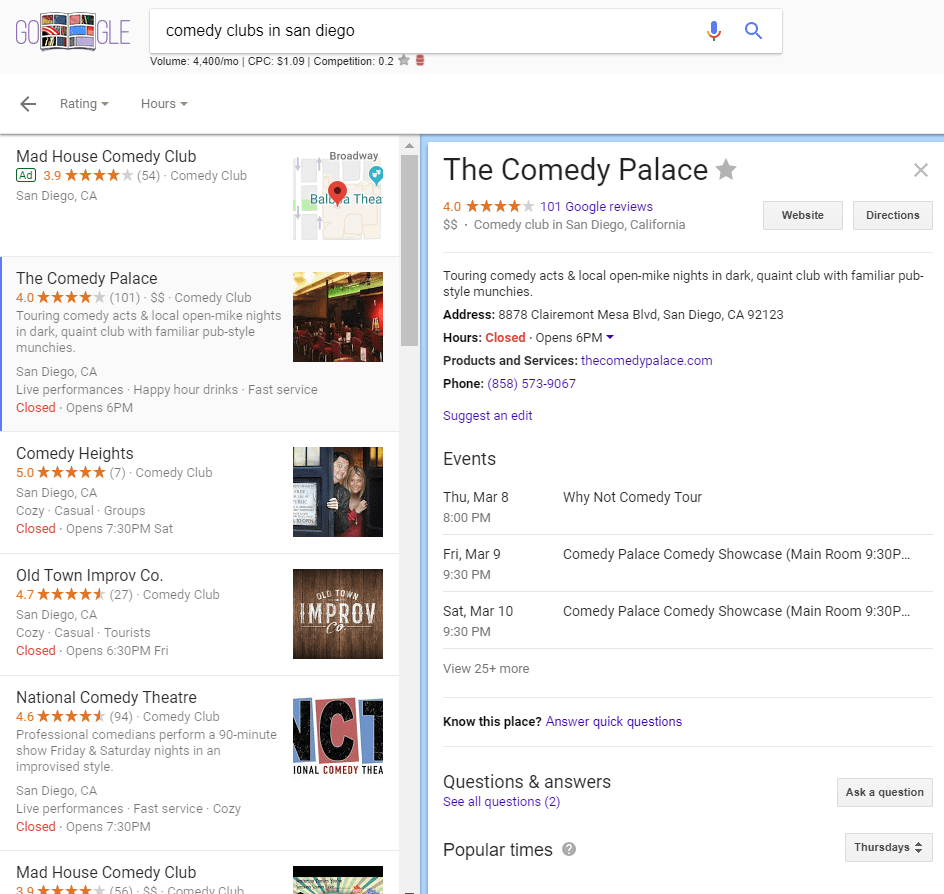 These posts typically remain visible for 7 days, unless the business takes it down earlier. Event posts will stay up until the date listed.
Now, it's important to note that Google Posts are relatively new. Strategies that unlock their true SEO value are still very much in the case study and experimentation stage.
However, Google Posts are completely FREE, plus, they are super easy to manage on Google My Business. So why not play around with it?
In spite of all the gray area attached to this tactic, there are several factors that you need to keep in mind to guide your experimentation. Here is a complete marketing checklist to help Google Posts work in your favor.
1. Captivating Images
Just like in any other form of marketing, images are crucial for capturing attention.
If you are using Google Posts to display a product or person, a high-quality photo is a must.
The best size to use is 750px x 750px, either in a JPG or PNG format. Anything smaller than 720px x 540px won't be accepted.
Depending on the nature of your business or product, it might be wise to splurge heavily in this area. For instance, if you are promoting jewelry or food, crystal clear close-up shots are much more powerful in catching peoples' eye.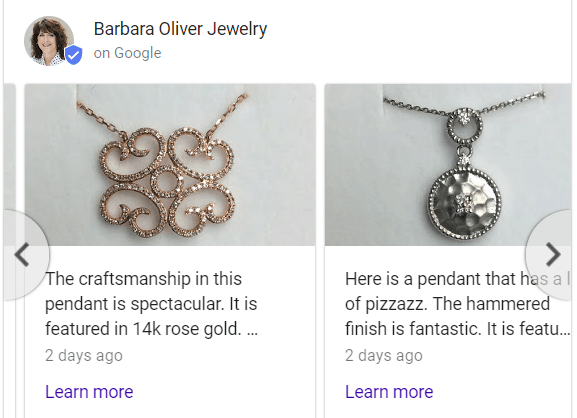 Just be sure that the images you use are center-weighted, so nothing gets cut off.
2. Actionable Headlines
Headlines are one the most important elements in marketing, period.
Regardless of whether they are written for social media, an email, blog post, or any other form of content, the headline is what gives the reader an introduction to what you are offering.
More importantly, it gives people a reason to check out the rest of your content. You can have the most fascinating message on the web, but, if the headline is subpar, most people won't even bother with it.
When it comes to Google Posts, the headline is the heart of the operation. Generally speaking, the SERPs are a place where people are quickly scanning for the information they need.
All the headlines and titles on the page are competing for the user's attention. That being said, yours needs to convey:
What you are offering
Why people should care
You have a limited number of characters, so your headlines must be concise.
For example, let's say you are a grocery store. Let's use the headline: "FREE Samples on Saturday from 2-4pm!"
In a short sentence, you are telling the user what you are offering, and by emphasizing FREE, it gives them a reason to care.
Depending on the product or service, coming up with awesome headlines isn't always easy. Aim to write down 10-20 variations. Chances are, one of those will stand out as a winner.
3. Concise, Yet Informative Descriptions
On the SERPs, you only have about 80 characters to work with in your description (including the headline). You can certainly write more, but only the first 80 will be visible.
This means you only have a sentence or two to entice people to click and find out more about what you offer. Your writing needs to be succinct and SEO-driven.
Here is a great example of effective Google Posts descriptions: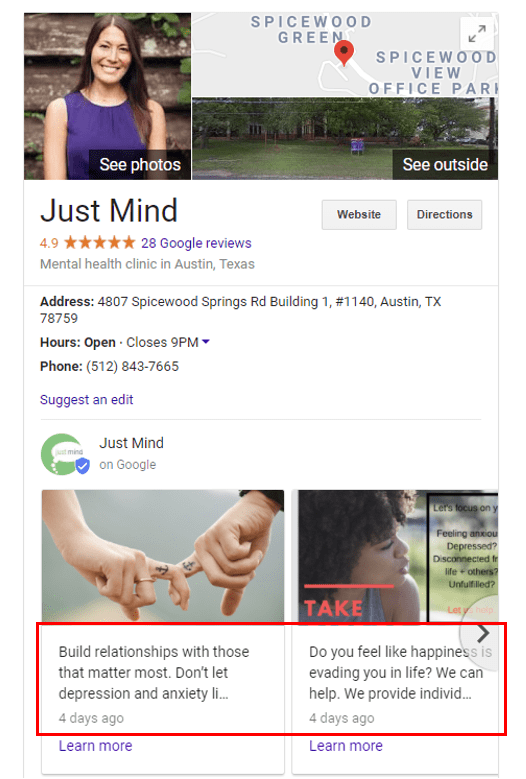 In a short few lines, the user gets a good idea of what the company is offering with motivation to read further.
In total, it's generally best to have your full descriptions be about 150-300 characters. However, you need to convey the key information in the first 80.
4. Clear Call-to-Action
Call-to-action buttons are one of the most highly-experimented elements in the marketing world.
Whether it's in your headline, below your description, or anywhere else, the CTA is what bridges the gap between stages of the buyer's journey.
In term of Google Posts, in which you are very limited with word count, the CTAs are a cornerstone of the content. Keep it short and sweet.
"Learn More"
"Order Here"
"Download Your Copy"
Do your best to avoid overly promotional jargon or commercial slang. In addition to being confusing to a lot of people, it can also be a turnoff.
5. Click Tracking
On the backend of Google Posts, your CTA button's URL is what allows Google Analytics to get the information it needs about the user; once they engage with your content.
Google Posts do not integrate naturally with GA. Therefore, it can be tough to get actual insights that go deeper than just views and clicks within the Google My Business dashboard.
By incorporating UTM codes, you are in a better position to track the engagement/success of your post.
Start by using Google's Campaign URL Builder.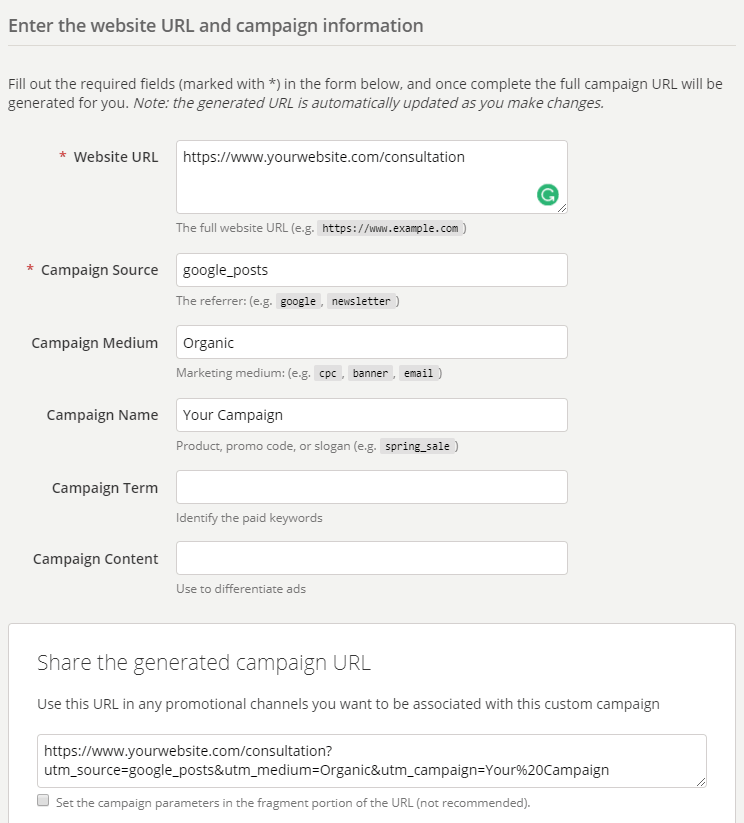 In the first two boxes, you'll want to input the URL that you want the CTA to lead to, then set the Campaign Source to "google_posts." If your goal is for the post to show up on SERPs naturally, set the Campaign Medium to "Organic."
With this set up, you can get a more in-depth view of the users who clicked on the post and see if they actually converted on your site.
6. Consistent Scheduling
As previously stated, Google Posts only stay up for about a week. Google will send you a notification before it expires.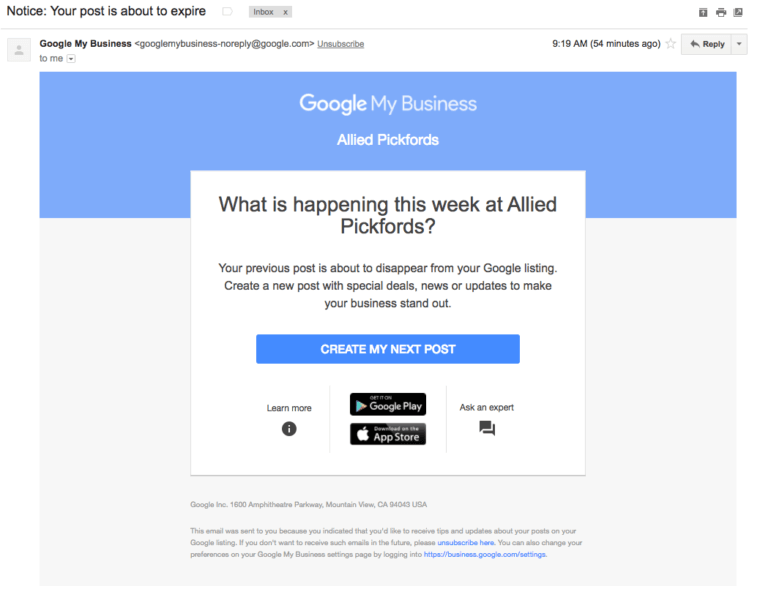 If you want Google Posts to work in your favor, you need to have fresh content posted consistently. Be sure you have a plan for the type of content you will publish, and how often.
If you are promoting events, this is a no-brainer. Again, event Posts do not conform to the 7-day rule. Google will take it down after the date listed, whenever that may be.
If you are using Google Posts to promote products or services, it's a wise choice to set your schedule to ensure there is always something being displayed.
Just as you would add any other piece of content to your calendar, make sure you have a continuous schedule set up for Google Posts.
Conclusion
Being as how Google Posts is still very new at this point, you are currently in a prime window to become an early adopter!
While every element listed in this piece is important, a major aspect of the Google Post formula comes down to SEO-friendly writing.
If you haven't already, look into some educational content about how to write concise, attention-grabbing copy. The main objective of these posts is to provide users with relevant information that drives further action.
Keep in mind, this process will almost certainly require some trial and error. Be sure your backend analytics are set up to provide the insight you need.
More Local SEO Resources:
---
Image Credits
Featured Image: Created by Vivek Patel, March 2018
In-post Photo #1: Intice
In-post Photo #2: iprospect
In-post Photo #3: Search Engine Land
In-post Photos #4-8: Screenshots taken by Vivek Patel, March 2018
In-post Photo #9: GA Demos & Tools
In-post Photo#10: Search Engine Land