Although the 2012 presidential candidates are spending unprecedented amounts on television advertisements, the vast majority of voters can now be reached through other more effective mediums. Google, which began the "Four Screens to Victory" campaign in March, is urging candidates to use a large percentage of their campaign budgets to reach voters through non-traditional "screens."
The following facts, which are highlighted in the infographic below, should cause the candidates to re-evaluate their online advertising methods and strategy:
Televisions – One-third of likely voters have not watched television in the past week, and 80% of smartphone users are using mobile devices to process content when they do watch television.
Mobile Devices – Since 83% of mobile phone owners are registered voters, this is a "screen" that should not be ignored. In addition, adults now spend more time on mobile phones than all other print media combined.
Tablets – The number of tablet owners has doubled since the last holiday season, and 90% of tablet owners now use their tablets to read and watch the news.
Personal Computers – With 68% of all voters indicating the Internet is their primary source of political information, the personal computer is an excellent way to reach and sway potential voters.
David Kaufman, a member of the Google Politics & Elections Team, posted the following to Google Politics:
"Access to political information no longer comes from one place – or one screen. In just the four years since the last presidential election, the continued growth of the Web and the proliferation of mobile devices has radically transformed when, where, and how voters access political information."
While Google clearly benefits from building a strong case for online advertisements, a variety of credible statistics demonstrate the decreasing impact of television ads. The presidential candidates, who have already spent more than $125 million on television ads, should strongly consider executing a strong and comprehensive online ad strategy if they wish to prevail in November.
Which of the "four screens" would a candidate be most likely to find you on?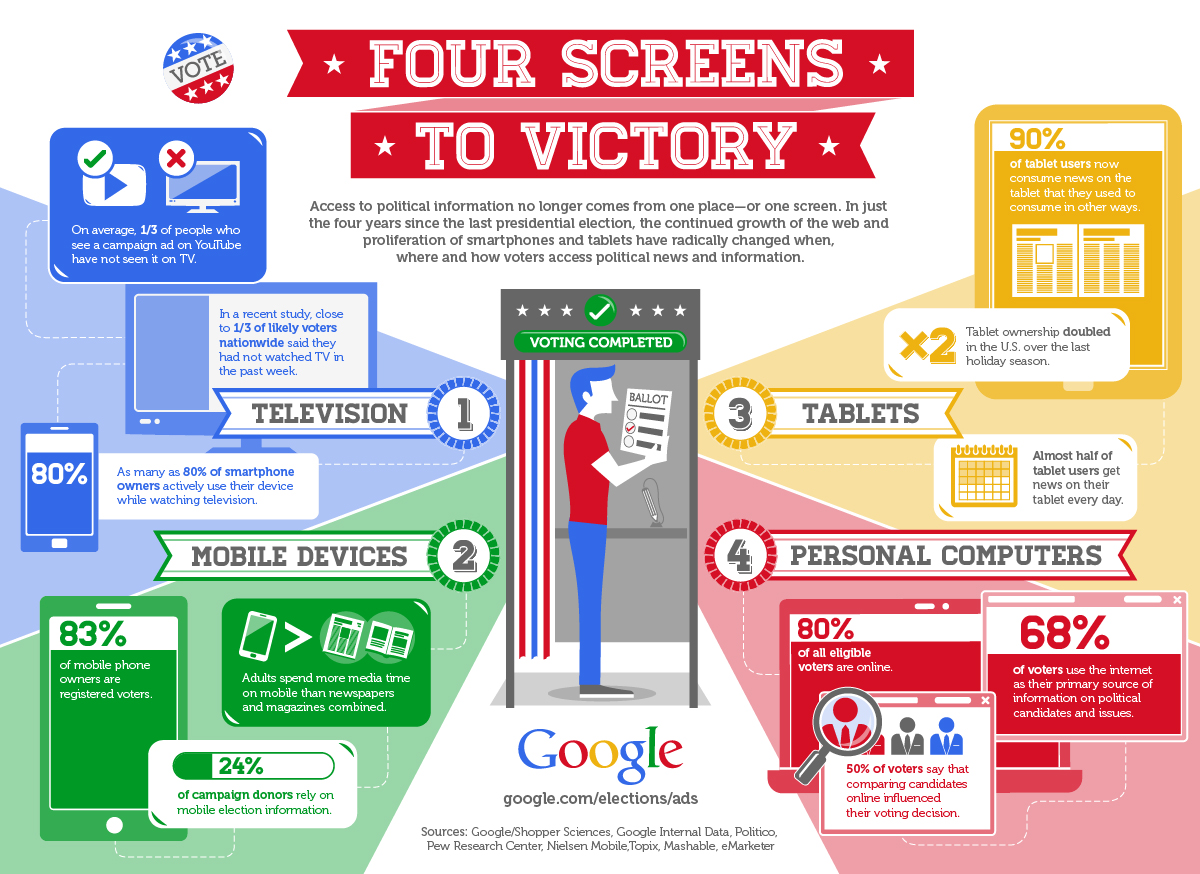 Image & Article Source: Google Politics