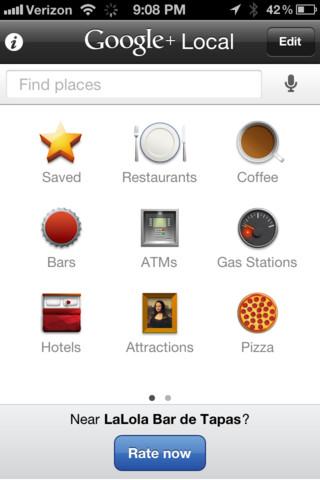 It appears that rebranding Google Places continues. The search engine giant recently released its Google Places app version 1.4 for iOS. However, it is now called Google+ Local. Other than that, the app's Android version also received an update this week. The rebranding goes in line with Google's announcement last May 30.
The Birth of Google+ Local Pages
Last May, Google announced that Google+ Local Pages will be the new Google Places. The changes that was employed for the past months include the "Local Tab" within Google+, integration and free availability of Zagat reviews, incorporating Google+ Local across the search engine giant's properties such as search, Maps and mobile, and adding Circles filter to find reviews or recommendations from friends, family or colleagues.
According to Google's Vice President of Location and Local Services Marissa Mayer, Zagat scores can express much more differentiation and nuance because they have varying scores for food, service and atmosphere compared to the five-star scale. Its 30-point spread also prevents everything from garnering 3.5 stars.
The new Google+ Local can also be discovered in many ways: Search, maps, mobile app, or through Google+ search. Users can even filter their search result by using different criteria, including "Your Circles" that reveals places that were already tapped by their friends.
Additionally, the search engine giant stated that there will be many merchant features that will be available in the future:
"We know many of you have already created a Google+ Page for your business, and have been hosting hangouts and sharing photos, videos and posts. We're excited that we'll soon extend these social experiences to more Google+ Local pages in the weeks and months ahead."
What's New with Google+ Local for iOS?
Aside from renaming the application to Google+ Local for iOS, it also had a couple of functionality and display changes. This app allows users to see review from their friends, decide where to go with Zagat's summaries of places, and review their favorite places.
In addition, the app features Voice Search. All that a user needs to do is tap the microphone and speak his or her query. There's also an improved user interface for places that are not nearby, OAuth2 login for improved security, and a couple of bug fixes. Most of all, Google+ Local for iOS includes the Zagat business information. This feature provides rating, reviews and overall summary (if available) for any local business.
Google+ Local version 1.4 for iOS is now available via download in iTunes, and it's compatible with iPhone, iPod Touch and iPad. However, the app requires iOS 3.0 or later.