As announced a few weeks ago, Google has now included the iPad as one of the devices that you can target specifically with your AdWords ad campaigns as Google has added it to the list of mobile devices that supports ad campaign targetting.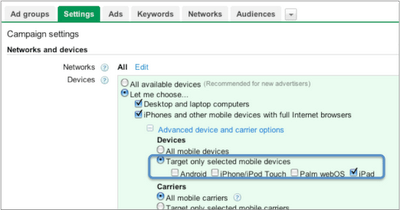 The process is pretty simple. Just edit the "Devices" section in your AdWord Campaign Settings and Select the iPad under the "Advanced device and carrier option." You need to select the iPad as one of the devices even if you have previously selected other mobile devices such as the iPhone or Android. Likewise, if your device settings are set for desktop and laptop computers only, your ads won't show up on the iPad devices.
Google is also reminding apps developers and owners that iPad apps can be promoted by directly linking to the download URL in their ads. This would enables iPad users to download the apps directly from the ad itself.