Google now supports hashtag searches within Google+ from the search engine's query result pages: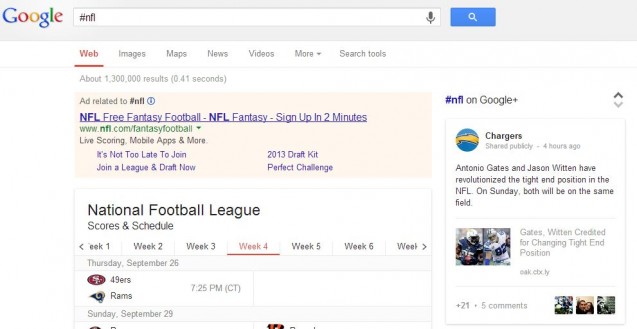 The box on the right hand side of the screen automatically refreshes periodically and users can view past posts by clicking the carrot arrows on the top right of the hashtag Google+ box. From what we've seen in a private, logged out browser, the posts are displayed in order of relevance, with no preference given to users or company pages. This means that individual users and businesses alike have the chance to appear at the top of users' search queries when they use an applicable hashtag.
Hashtag Search Optimization
When using a logged in Chrome browser, the same results were displayed. All results except for one had at least 3 shares or a number of comments, leading to speculation that interaction with posts may lead to better chances of getting displayed in query results.
Even though this is a new feature now, based on Google's previous indexing and SERP display history, we can safely assume that Google will begin using an algorithm to choose the best results for users based on their account history or hashtag user popularity.
Searching Within Facebook and Twitter
Along with providing a live stream of hashtag posts, Google also allows the searcher to click over to hashtag result pages on either Facebook or Twitter, at the bottom of the Google+ box: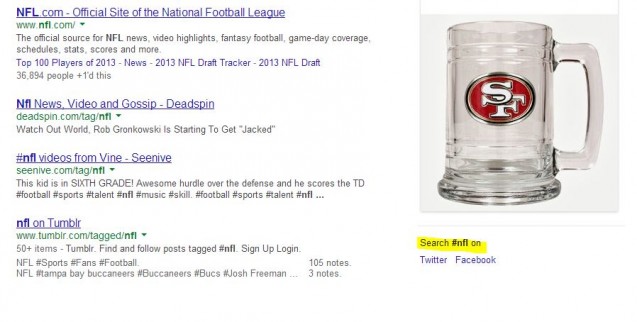 Clicking on either of these links takes users to the search result pages on the respective sites in a new browser window.
Hashtag search optimization and allowing users to search hashtags on Twitter and Facebook directly from SERPs show that Google is not only invested in making Google+ an integral part of users' search experience, but that it also values offering breaking news and information to users via social media, even if it means displaying results from Google+ competitors.
Screenshots taken September 26, 2013.