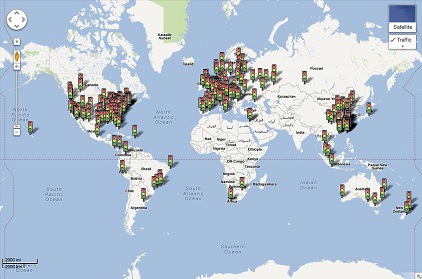 Although Google Maps initially launched its live traffic feature in 2008, until recently the program was limited to larger metropolitan areas. However, yesterday Google launched a massive expansion of the feature adding 130 new locations including the smaller towns of Kalamazoo, Michigan and Tuscaloosa, Alabama. In addition to adding 130 new cities, Google also noted they were improving coverage in many international locations including: Canada, China, France, Germany, and the United Kingdom.
The Department of Transportation (DOT) relies heavily on expensive traffic sensors that are embedded in highways for its traffic information. As a result of the expense, until recently only major cities had accurate real-time traffic information. In contrast, Google primarily collects traffic data from Google Maps and Google Navigation users who share location data. The users, which are growing in number due to Android's popularity and the number of people navigating with mobile phones, provide a crowdsourced solution to displaying traffic information for rural areas and smaller roads.
Raphaël Marinier, a Google Maps software engineer, posted the following to the Google Lat Long Blog yesterday:
"Whether you're online on your home computer ensuring no unexpected snarls await your drive to the airport or you've been stuck behind a line of cars for a few minutes and can ask your friend in the passenger seat to check whether it'll clear up just around the bend, we hope these updates save you time and stress when getting to your destination."
The live traffic feature, which can be accessed from either Android or a web browser, visually depicts the amount of traffic using red, yellow, and green colors on the map. Also, the live traffic feature provides more accurate estimated travel times and allows people to visually alter their route to reduce travel through congested areas. To see a live view of where traffic data is currently available, visit this Google Maps overlay.
Sources Include: Google Lat Long Blog