Google has just added a new option to Google Maps UK which could be useful if you're property hunting in the UK. This new option called "Properties", gives you a little red dot on Google Maps which display every house or flat for sale or rent.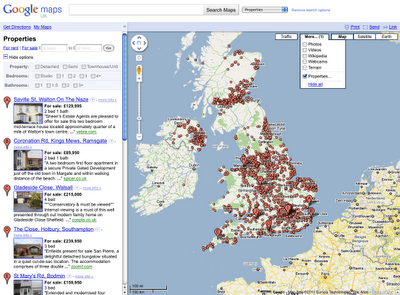 The new feature also lets you refine your property search by sale or rent, bedrooms, bathrooms and most importantly price. Google Maps UK will change whenever you want to filter the property search results based on those criteria. Even more useful is the fact that the maps automatically updates when you scroll and zoom and will not stop until you've found the spot that you want to rent or buy.
In addition to listing down the properties available on Google Maps, Google has made it also possible for you to see other map layers including photos, videos, satellite and earth view. This is useful if you want to get better sense of the neighborhood where the property that you are planning to acquire is located.
The Google Maps UK feature currently has listing from PropertyLive, Zoopla, Ezylet and more. Data for Google Maps "Properties" were provided by PropertyPal.com.
So, if you're looking for a place to rent or buy, check out Google Maps for UK and start searching.