Google Maps is a pretty useful tool for conducting local search on business establishments, directions and yes route maps. It's been getting wide usage and yet Google seem to have not capitalize on its monetization potential especially from local search advertising.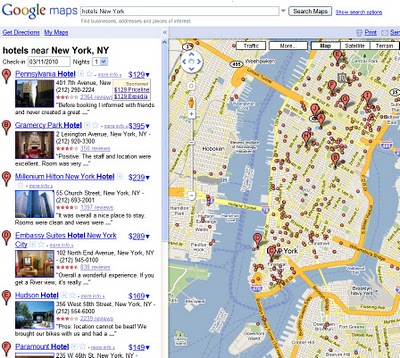 But this perhaps might change soon, as Google has started testing out a new Maps feature that shows hotel prices for selected local hotel listings. The new feature will let you enter the dates of your planned stay in a hotel in your search phrase. Google Maps search engine will then display real prices on selected listings and as you click on a specific price, you'll see a list of advertisers who have provided pricing information for specific hotels.
To avoid issue on search results relevance, the pricing information will be labeled "Sponsored." Of course you can click through to reserve a room from the advertiser's site. Hence, a faster, more convenient way of planning your next trip, thanks to Google Maps.
Now for those who are concerned that this might affect the ranking of hotels in Google Maps, Google was quick to explain that this would not be the case. Business listings are still ranked based on their relevance to search terms and other factors.
Google is currently testing this feature with selected advertisers only and is visible to selected users as well. It's availability to all Google Maps users will be determined by how the testing will push through.