Google has just released Maps 4.3 for Android phone and based on the new features given out by the Google Mobile Blog, it seems like the app is being geared towards becoming more like FourSquare and other location-aware social media apps. According to Google, the new features of Google Maps 4.3 would help you quickly choose the right place to grab dinner, catch the next train and find friends to add on your Google Latitude account.
One of the major features of the new Google Maps 4.3 is the color coded bar on top of your phone's screen which gives out brief review snippets of people about specific places.
The new Google Maps 4.3 app also adds upcoming schedules to the public transit station pages which lets you select any transit station icon directly from the map and open its page by simply tapping the window. Upcoming schedules provides you with the next departure times for any subways, trains or buses that leaves from any station which has available transit information.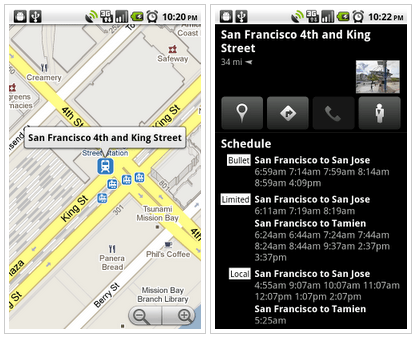 And of course, the new Google Maps 4.3 for Android's most important new feature is that location sharing feature which you can find right at the bottom of your Latitude friend list. It will allow you you to share your location with long lost friends, loved ones and others from your Google Contacts. You can also add any suggested friends by simply tapping the +icon which will send them a sharing request.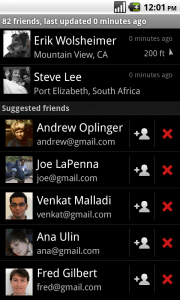 Google Maps 4.3 is available now for all Android phone users with version 1.6 or later running on their phones.