When it comes to search, expect Google to always come up with innovative ideas that will surely rock the house down. Take the case of these few lines of text that appears below the main link of search results. Most of us probably just ignore these lines and click on the main link of the search results right away. Now, Google is making them more useful than just giving us what a short description of what a page is all about. Those search snippets can now include search results within the the main page.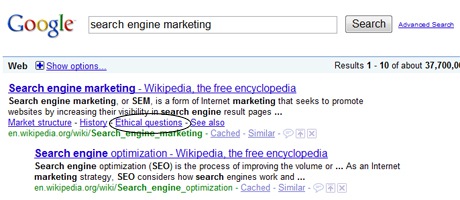 It's basically search within a search similar to the search within a domain feature which Google introduced not so long ago. The search snippets though would give you specific pages that are otherwise buried deep within the search results main page. These specific pages naturally answers the search terms that you used.
Currently if you check out this feature, the enhanced search snippets appear only for most of the Wikipedia entries. This is so because to get the feature displayed for your websites search results in Google SERPs, you must make sure that your webpage is fully structured in such a way that Google's algorithm will be able to capture it.
Some of the things that you should do to enable the feature to your websites are, structure your pages into logical sections, use anchors with descriptive names for those sections, and create a table of contents that links to these individual anchors.