Google has just launched a new feature of Google Maps that how I wish would also be enabled internationally – live traffic conditions in major arterial roads in U.S. cities. With this new feature, you can easily identify which among the usual city routes are currently experiencing worst traffic conditions. What's so good about this is the fact that Google Maps will be color coordinating the traffic conditions.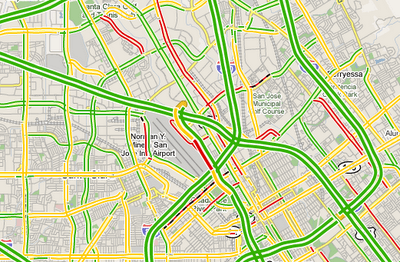 By selecting the "Traffic" button when zooming-in on a particular city on Google Maps, users can easily see the color coordinate traffic conditions as:
red for heavy congestion
red/black for stop-and-go traffic condition
yellow for medium congestion
green for a smooth traffic condition
For those on the move who got stuck in traffic, they can now easily find alternative routes by checking Google Maps on a mobile phone. Google Maps for Mobile would have the same "Traffic" button which will give the same feature.
And in case you're wondering where Google is getting this real-time traffic data, well it could actually be coming from you or through your friends mobile phones. This is made possible by Google Maps for mobile which monitors users vehicle speed. Google is sort of "crowdsourcing" the gathering of these traffic data through the GPS features of mobile phones of users who activated the location service of their mobile phones.