Google has just made it easier to monitor news items from the Google News stream. Now, you can create your own topical news streams based on keywords that you would normally use if you want to get the latest news on a particular topic.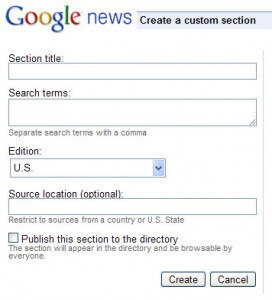 To create your customized news section, simply go to your Google News home page, click on the "Add a Section" link located at the top right hand corner of the page and select from the current sections created by Google. Or you can create your own by clicking on the "Create a Custom Section" button. This will take you to another page where you can filter the news items that you will like to get based on specific search terms, geographic area and source location.
You will also be given the option whether you want to published your news section to the Google News public directory where other users can see it. When you're done simply click on the "Create" button and go back to your Google News home page. You'll see the news section your just created alongside the other default Google News subsections.
The feature is currently available in the Google News editions for Australia, Canada, India, Ireland, New Zealand, the United Kingdom, and the United States.
If you want another way of monitoring topical news items, you can always search Google News and create an email alert instead. You'll get the same thing although browsing the news on a web page is more enticing than browsing them via Gmail.