I just got a new MacBook Pro a couple of days ago and have been adjusting and learning to work on the Mac OS X platform. One of the things I've been missing is Google Chrome. And with the new beta release of Chrome which was just released by Google, the more I'm really hoping that Google Chrome for Mac would be available soon.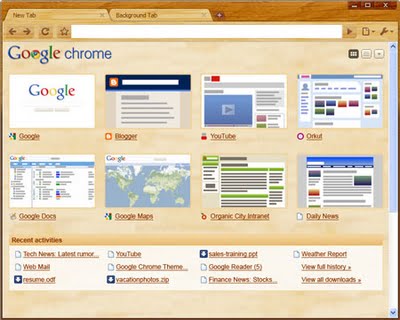 Anyway, going back to the new Chrome beta, according to Google, Chrome's speed performance has improved to over 30% than the previous stable release. This is based on the V8 and SunSpider benchmarking test conducted by the Chrome testers.
In addition, the Google Chrome developers have also enhanced two new features – New Tab page and Omnibox. Google Chrome users who know that the new tab is one of Chrome's best features. Google has also improved on Chrome's Omnibox feature as well as some new styling options.
The new New Tab Page now allows you to arrange website thumbnails of your recently visited websites through drag and drop. It also allows you to pin a particular website on a particular spot on the new tab page and it will remain in that spot unless you move it into another spot later on.
The new Omnibox feature which is activated via a drop down menu now gives you little icons that distinguish between suggested sites, searches, bookmarks and pages from your browsing history. This will be displayed when you type in keywords on the Google Chrome search box.
Lastly, a much awaited feature especially for Firefox converts – changing the theme of your Google Chrome browser. There are few themes available yet. Hopefully Google will bring in the cool iGadget themes to Google Chrome later on.