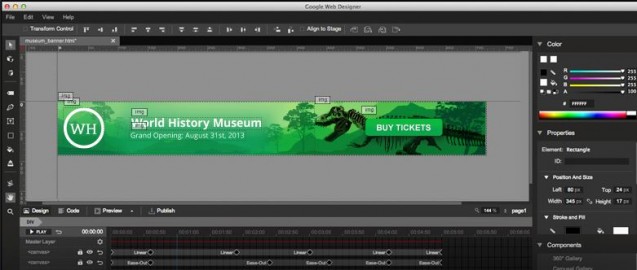 Yesterday afternoon, Google announced its latest free tool: Google Web Designer. This downloadable program is focused on helping designers "create engaging, interactive HTML5-based designers and motion graphics that can run on any device," according to its download page.
Sean Kranzberg, Engineering Manager of Google Web Designer, states:
HTML5 is a universal language for building beautiful, engaging content that can run across desktops, smartphones, and tablets. We think that Google Web Designer will be the key to making HTML5 accessible to people throughout the industry, getting us closer to the goal of 'build once, run anywhere.'
Google's announcement blog post mentioned that many designers are hesitant to use HTML5 because they have to build several different designs for various platforms (mobile, web, banners, etc). The Google Web Designer seeks to alleviate this problem by allowing designers to create HTML5 ads in minutes and publish them directly to DoubleClick and AdMob, as well as saving them for other platforms.
Even though the name is "Web Designer," many are arguing that this program is more designed for ads than websites. Features like CSS3, animations, built-in code editing, and automatic uploading options make ad creation easy, but for those waiting for a free complete builder alternative to Adobe Dreamweaver or another HTML5 design platform, the wait may be a bit longer.