Google announced a pretty cool feature that most of us Android phone users would surely find useful and innovative – gesture search. Basically, what this does is to free you of the task of typing your search terms. With gesture search, all you have to do is to draw alphabet gestures on your Android phones homescreen. Gesture search will then suggest search terms based on what you've drawn.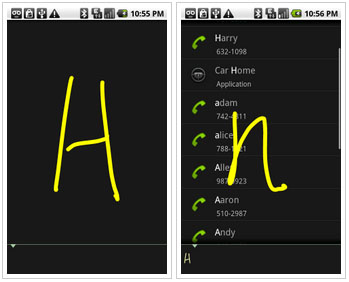 Gesture Search is a Google Labs application supporting all Android phones with version 2.0 or above, in the U.S. only. It lets you quickly find contacts, installed apps, a bookmark or a music track.
The different gestures that you can draw on your Android phones' touchscreen include – draw any letter, horizontal cross to erase a query, left to right for erasing an entire query and right to left for removing the last letter or space in the query.
In addition, Gesture Search also considers your search history and puts the last search query you've used to the top of the list the next time you perform another related gesture search.
To download Gesture Search, just visit the Android Market and search for it. But then again, it's good for U.S. Android phone users only. Hopefully, Google will make it available to other users worldwide.