Say you followed an online ad from a paid Google search listing. But while on the landing page of that site, you can't decide whether to finalize an ad conversion. So you decide to leave the page and continue browsing within Google's content network. Woudn't you be annoyed when another similar ad is displayed?
If you're an AdWords publisher running those ads, somehow you're hoping that as your ads follow a potential consumer, that user will change his mind and finally do something that will lead to ad conversion for your campaign.
That's what Google AdWords' Remarketing scheme is aiming to achieve. This new AdWords' feature lets you embed a code in your website that will trigger your AdWords ad to show related ads to a potential customer after leaving your site without doing conversion action, provided that the user visits an0ther Google site after leaving your site.
Confusing? Here's the exampled given by Inside AdWords:
Here's an example of how it works. Let's say you're a basketball team with tickets that you want to sell. You can put a piece of code on the tickets page of your website, which will let you later show relevant ticket ads (such as last minute discounts) to everyone who has visited that page, as they subsequently browse sites in the Google Content Network. In addition to your own site, you can also remarket to users who visited your YouTube brand channel or clicked your YouTube homepage ad.
Ad Remarketing is part of Google's Interest-based ad targeting program. To set up a remarketing campaign on your AdWords account. Simply click on the "Audiences" tab on your AdWords account.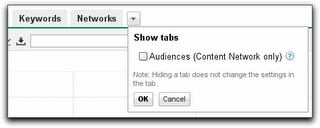 More information about Ad Remarketing can be found here.