Inside AdSense Blog has just announced that Publisher Center is now integrated with Google Ad Planner. Actually 3 of Google's Official Blog, Inside AdSense, Inside AdWords and Google Analytics Blog are announcing this new feature. This is so because interested readers of these three blogs will be affected by the new feature.Essentially, this new feature will help AdSense publishers increase the visibility of their sites to potential advertisers. And an integral part of the integration is the fact that AdSense publisher can opt to integrate their site's Google Analytics to the Google Ad Planner Publisher Center. This would give potential advertisers and agencies identify sites to run their ad campaigns on based on site page views and unique visitors.
If you're an AdSense Publisher, you can start claiming the sites you own which are running AdSense from here. After claiming your sites, you can opt-in to share your Google Analytics Data to the Ad Planner Publisher Center. You can view how your site is listed by visiting the Ad Planner Publisher Center.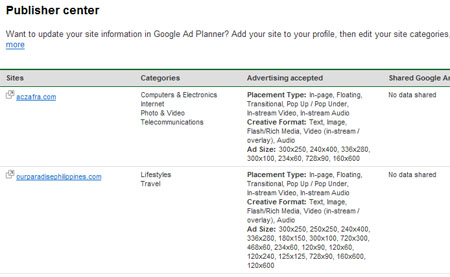 While claiming your site, you can specify keywords that would identify your site accurately. You can also specify other pertinent information about your site including ad placement type, ad creative format, ad sizes as well as link to your site's advertising policy.
Similarly, if you're an advertiser you can find sites relevant to your ad campaigns by visiting the Ad Planner Publisher Center and search for sites using variable keywords.
To learn more about Google Ad Planner Publisher Center, you may want to watch this short video.