Google is currently beta testing a better and sleeker interface of its AdSense account management. The new interface answers the top three suggestions provided by AdSense account holders that will make the task of managing AdSense accounts easier and less daunting.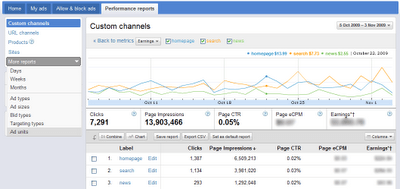 From the sample screenshot given by Google, the new interface is indeed better looking than the current interface. It is also less cluttered and links to the information that you would like to know when checking your AdSense account are given outright.
The new AdSense interface gives you more detailed performance reports that enables you to view daily statistics in a nice graphical format. Additional metrics that matters are also provided including earnings you earned from various ad implementation, ad targeting and ad bids.
The Ad Review Center will also be enhanced to give more options for managing ads and a cleaner interface that will facilitate easier reviewing of ads in the Ad Review Center.
The new AdSense interface is now more streamlined and simplifies common tasks that you normally do on your individual accounts. The interface now also includes more relevant help, message inbox containing tips and alerts on every page of your AdSense account.
Google is currently rolling out the beta version of the new AdSense interface to some users in English, Spanish, French, German, Italian and Japanese AdSense users.