As if the noise created by Google Buzz on Gmail for desktop is not enough, Google has just integrated Google Buzz to Gmail for Mobile. So, the next time you access your Gmail account on your iPhone or Android devices using your phone's browser to access gmail.com, you'd noticed that when you check the "menu" , Buzz is now added as an option.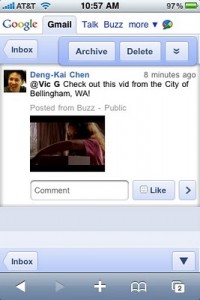 According to Google:
With the latest iteration of Gmail for mobile, we've worked to integrate buzz with your mobile inbox. Now, you'll see buzz in your inbox on your phone just like you do in the desktop version of Gmail, complete with the little Google Buzz icon. When you open a buzz post from your inbox, you can perform all the standard functions, such as liking the post or commenting, just as you can from the desktop Gmail inbox.
Interestingly, Google did not do the same integration with the Gmail app for Android. I'm pretty sure nobody if not very few Android and iPhone users check their Gmail using their phone's browser. I use my the Gmail app on my Nexus One and the default email app for iPhone when checking my Gmail account.
For the Android Gmail app, Google perhaps is just being cautious so as not to annoy users some more. Or perhaps they are just testing the feature first before integrating it to the Android Gmail app. Hopefully not.