Google has just released a new and improved version of its web-optimized iGoogle for iPhone and Android devices. While previous versions of iGoogle was already proven to be a fast way of accessing your favorite Google Gadgets and RSS Feeds while on the move, the new improved beta version of this service offers something more.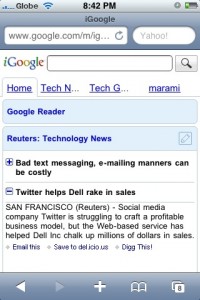 The improved iGoogle for iPhone and Android devices now supports tabs as well as more gadgets created by Google and third-party developers. Aside from making iGoogle faster and easier to use on the iPhone and Android devices, the new beta version now also features in-line display of articles for feed-based gadgets.
The said feature displays summaries of articles without leaving the current page that your mobile device is displaying. If you iPhone or Android phone is on 3G connectivity, this feature would certainly be a big help.
The new beta version of iGoogle also allows you to re-arrange gadgets as well as keep a gadget open until your next visit.
And finally, the new iGoogle now supports translation in 38 languages.
To check out the new version of iGoogle, point your iPhone or Android devices mobile browser to iGoogle.com and then tap on the "Try the new Mobile iGoogle!" link. You can also bookmark this page so that you can visit it again anytime you want to.