Have you tried searching for a hotel lately on Google? If you have, you noticed a plethora of new Google hotel related search results. This is Google Hotel Finder, a new sexy travel tool much like Google Flights. "Hotel Finder" aggregates all the hotel information you need to plan a trip.
This begs the question: what does this mean for hotel industry search?
In this article, we'll be looking at three crucial aspects of Google Hotel Finder.
Hotel Finder Ranking Factors
Hotel Finder Profiles
Hotel Price Ads
In an industry where hotel bookings are dominated by online travel agents (OTAs) like Expedia or Bookings.com, hotels looking to increase their discoverability through search can leverage Hotel Finder as well as Google's Hotel Price Ads (HPA) to start finally competing with OTAs for online reservations.
Top 5 Hotel Finder Ranking Factors
While still in its early stages, Hotel Finder has recently undergone a layout change to make it mobile-friendly, some UX aspects (for example, you no longer have easy access to the limiting maps factor), and its algorithm seems to be undergoing changes as well. Unlike OTAs, which suggest the most popular hotels at your chosen destination, Google Hotel Finder tries to find the most relevant hotels using these 5 factors:
1. Number and quality of reviews
One of the main factors that Google uses to rank hotels is their reviews. It's hard to find any hotel with less that 4 out of 5 stars in the top results. When there is some disparity, it usually comes down to either the number of reviews or the number of logged-in reviewers.
It's no surprise that Google gives more weight to reviews done by logged in Google+ users than to anonymous ones. In fact, it looks like the number of Zagat user reviews has almost no impact on hotel rankings.
2. Pricing
Hotel pricing is factored in two ways. First, Google tends to show a variety of prices at first. However, pricing results will change over time to adjust to your behavior. In other words, if you are looking for a hotel in different regions of San Francisco and you're constantly clicking on cheap hotels, the results will prioritize cheaper hotels.

On the other hand, Google Hotel Finder also ranks hotels that are not overcharging customers. This feature could add accountability to hotels that are overcharging their customers during weekends.
3. Presence on Google+ Local
It's rare for a hotel not to be present in Google+ Local due to Google's scraping policies. However, Google does tend to prioritize hotels that have taken ownership of their Google+ pages.
4. Quality Pictures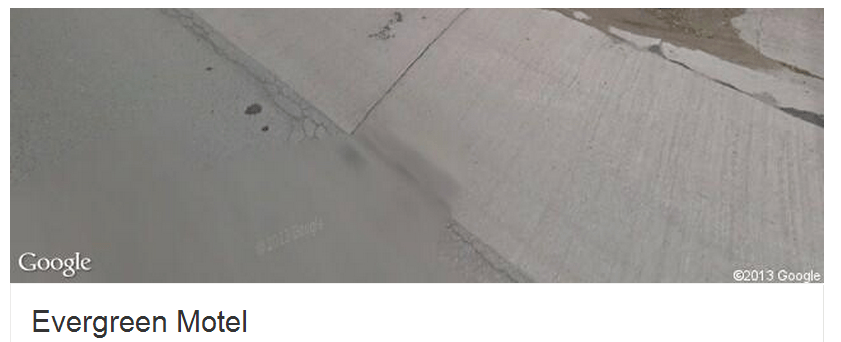 Surprisingly enough, there are a handful of hotels in every city that do not have any pictures associated with their account. In this case, Evergreen Motel does actually have a few pictures on OTAs but none on their Google+ Local profile, which is the main source of pictures for Hotel Finder and VFM Leonardo, a travel & hospitality tech company.
Not only will adding pictures help boost your position in Hotel Finder, but it will also prevent users from getting the impression that they'll be sleeping on the sidewalk.
5. Proximity to City Center
By default, Hotel Finder begins its search for the perfect hotel from the city center. It then slowly spirals out from there.
How Are Profiles Built?
Much like the photos that appear on the hotel listings, Google is scraping content that isn't necessarily from one of their properties. In fact, it looks like Google is currently scraping hotel description and amenity lists from two sources, Google+ Local listings and websites part of the Northstar Travel Media network.

The above data for Hotel Espresso shows some of the flaws in Hotel Finder's gathering of information. For instance, the Molson Center was renamed the Bell Center in 2002! In some cases, the description text does not even match the descriptions on the Google+ Local listing. In any case, this was not the case for the non-mobile version on Hotel Finder. We can only hope that it will eventually be fixed or that a better scraping source will be developed.
How Hotel Price Ads Work & How to Join the Big Players
Hotel Price Ads have nothing to do with AdWords and currently requires hotels to work with their Central Reservation System (CRS) and/or a Global Distribution System (GDS) to start using HPA. There is only one advantage to being an AdWords user in Hotel Finder and its getting priority placement in the Hotel Finder SERPs.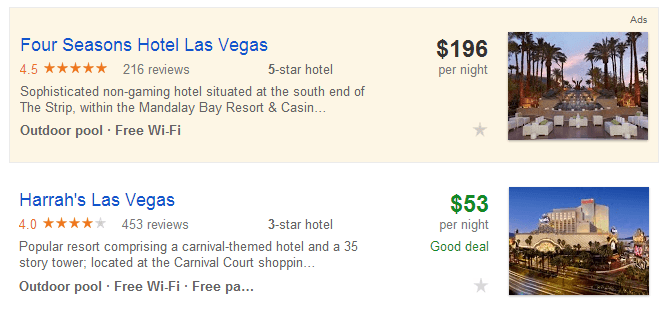 Getting your hotel or client's hotel a better ranking in Hotel Finder won't necessarily provide direct ROI but it does provide an alternative to the current online travel agency booking system. Not to mention that Google will be claiming a smaller commission than the average OTA by using a similar bidding system as AdWords.
Google SERP and Price Ads
Hotel Price Ads work similarly to AdWords. Hotels and OTAs bid on certain locations and words. It is essentially a closed bid war between OTAs and the hotel brand. However, there is a better ROI than AdWords, especially when Hotel Finder is included in the mix. This is due to the comparative nature of Hotel Finder.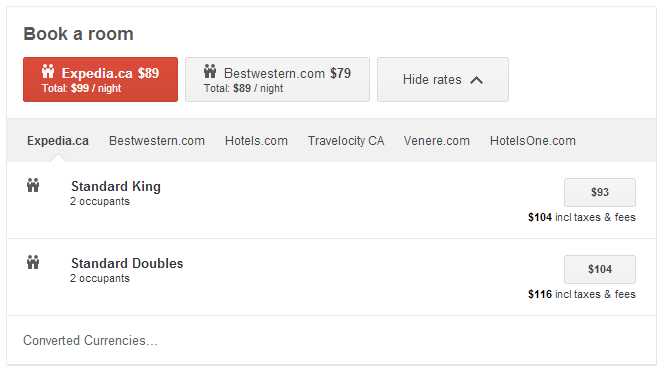 Unlike an AdWords ad, users who click on a HPA will most likely have already compared your hotel with others in the region leading to a much higher conversion rate.
Even with the advantages of HPA, it seems like it is relatively underused. In fact, the only three chains I have spotted are Best Western, Hilton and Marriot. Yet, many CRS and marketing agencies are developing relationships to start offering these services.
Conclusion
Hotel Finder and the Hotel Paid Ads are not extremely popular yet, but much like Google+ I predict that Hotel Finder will become a rival to popular OTAs and HPAs will finally allow hotels to regain some traction and profits.
Philip Tomlinson of nvi, an iProspect Company, contributed to this post