Can we go a single day without some sort of Google Glass update? I guess we can't, especially when there's been some major developments regarding the controversial product. So, let's get right into it. Here are three essential news-bites that you should know about regarding Google Glass.
1. Glass Gets New Design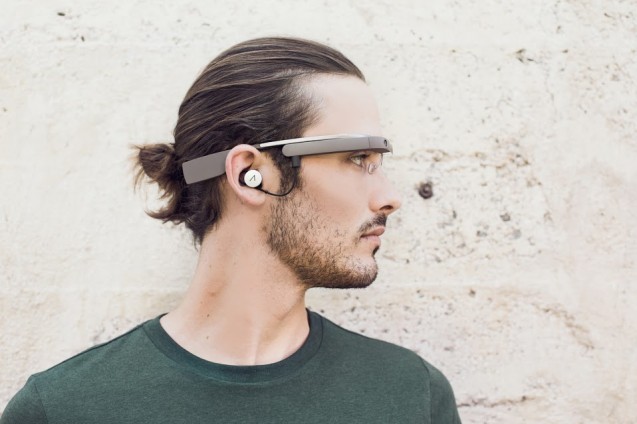 Google Glass +
Google's wearable computing device recently received a hardware update. The new design was unveiled on a post at the Google Glass blog on Google+. Besides two new images, Google left a brief message.
We'd rather "show" than "tell" so here you go: the mono ear bud, and the Glass that Explorers will be getting when they swap later this year.
So, what exactly is the Big G talking about here? The new Google Glass hardware will now be compatible with prescription eyeglasses or shades, and an ear bud will replace the speaker in the current model. The bone-conduction speaker, which is reminiscent of hearing aids, will transmit sound waves through the skull to the ear, but has been called faulty by some testers.
If you're not a fan of the ear bud, a Google representative stated that, "you can choose whether or not to use the ear bud, it's not permanently attached." In addition to this technical upgrade, current Glass "Explorers" who participate will also be able to switch colors. The swap begins Friday (November 1) and testers will have 60 days to decide if they want to keep the new Glass.
2. Accessory Store Opens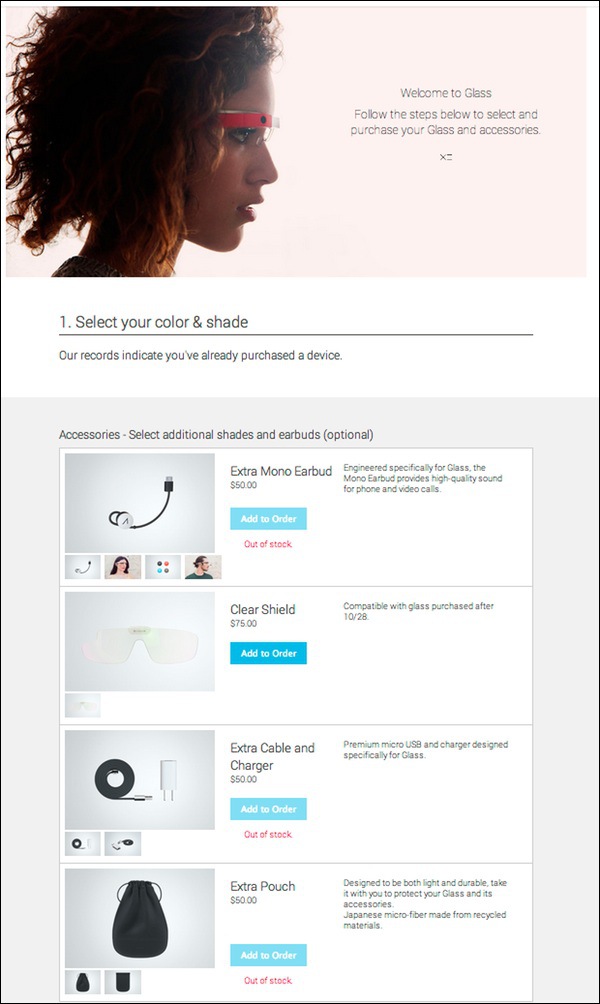 Marketing Land
What if you want to get your hands on those new ear buds? Well, you're in luck. Google has opened up a Google Glass accessory store. But, there's a couple of issues. At the top of that list would be the steep pricing. Also, most of the items are already sold out. Finally, some in the Explorer Program are having issues signing in because Google isn't recognizing their accounts as being a Glass owner. Currently, here's what the store is offering.
Extra Mono Ear Bud: $50 (out of stock)
Clear Shield: $75
Extra Cable and Charger: $50 (out of stock)
Extra Pouch: $50 (out of stock)
So much for swapping and getting those new ear buds. Hopefully, Google will restock the store soon. Particularly when you consider the following…
3. Google Accelerating Glass Rollout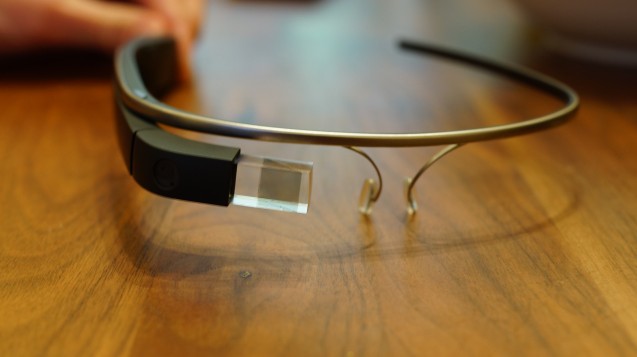 Wikipedia Commons
Perhaps in response to the current flood of wearable tech from companies such as Samsung, Google will release more Glass units in the near future. According theFinancial Times, Google is going to permit the 10,000 or so Glass "Explorers" to invite up to three people to buy the device for $1,500 within the coming weeks. As opposed to a major Apple-like event, Google wants to receive feedback from Glass wearers prior to its release sometime next year, presumably to correct any bugs or flaws. Also, having more people seen in Glass could kick-start a "viral" campaign.
4. California Woman Gets Ticket For Wearing Glass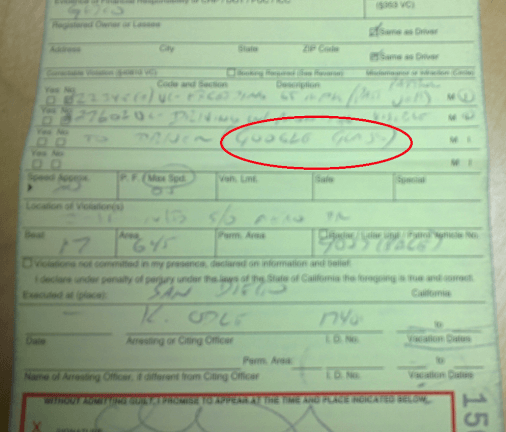 Cecilia Abadie Google +
Remember last summer when people were debating the places where Glass could be banned? One location listed was behind the wheel. While a couple of states, such as West Virginia and Delaware, have already started the legal process to make them illegal, a woman in San Diego was actually ticketed for wearing the device.
Cecilia Abadie, who calls herself a Glass pioneer, was pulled over on October 29 for speeding. To her surprise, the California Highway Patrol also gave her a ticket for distracted driving because she was wearing Glass. The patrolman even put Glass in parenthesis on the ticket, which you can see above. The Huffington Post notes that California has laws "prohibiting drivers from operating a vehicle with a television broadcast or video signal in view". However, GPS and certain vehicle displays are permitted. It is unknown if Abadie was using Google Navigation, which could have the ticket thrown out.
Regardless, this will be an interesting story to follow. Don't be surprised if you catch more situations as Google expands Project Glass. This scenario could also spark even more discussions about when and where Glass can be worn.
What do you think about the new Google Glass design? Has Google made Glass more effective or even dorkier with that giant ear bud?
Do you think that Cecilia Abadie and other people who drive while wearing Glass should receive tickets?
Finally, are you secretly wishing that a Glass "Explorer" will invite you to participate? The curiosity surrounding Glass has to be getting to you by now, right?