Following up Nielsen search market share data, Hitwise has also released their search metrics for December 2009. And just like Nielsen's stats, Google is also leading the pack, getting 72.5% of all searches conducted in the U.S. during the said period. This is equivalent to 1% growth rate from November 2009.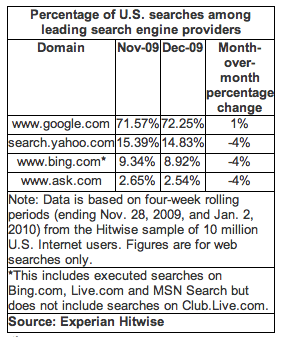 All the three other search engines trailing Google from behind suffered a decrease in searches. Yahoo got 14.83%, down from 15.93%, Bing got 8.92% from 9.34% and Ask.com got 2.54% from 2.65%.
In addition, the Hitwise report also pointed out that Google has been driving more traffic to key U.S. industries while Bing's stat showed the biggest leap in terms of driving traffic to these key industry categories. Specifically Google has been sending the most traffic to Automotive, Shopping and Travel Categories. While Bing is good at sending traffic to all four categories and Yahoo in the Shopping category.
Hitwise also note, through a post on its official blog that although Bing suffered minor loss in searches during the said period, it is however showing signs of success rate.
In October 2009, BIng's success rate was well below the competition with a success rate just north of 70%. That rate has been steadily increasing, and now Bing is showing a success rate over 75%. There is one caveat when reading these numbers; search success rate is often influenced by the complexity of the search. Traditionally, portal search engines tend to have more simple navigational and brand related queries in their top searches which are easier to resolve then searches for information.
There you go. That will probably end our year-end coverage of search market happenings in 2009. Although, Compete.com is yet to release its own data for December. Google obviously still is the king of search all through out 2009.
Will there be any change in search trend this year? That we will have to wait and see.