Google's new job search capability, Google for Jobs, recently entered beta.
So what does this mean for your brand's job board or recruitment website? And what about your organic search traffic?
Below you'll find seven helpful tips to maintain maximum exposure.
First, some context.
What Is Google for Jobs?
Google for Jobs is a new search feature that helps job seekers find job openings directly from Google's search results. Currently, this is limited to the U.S., but it will probably go global soon.
Google's search results now show jobs from top online job boards. This includes LinkedIn, Monster, and CareerBuilder. The user's location determines which jobs listings searchers see: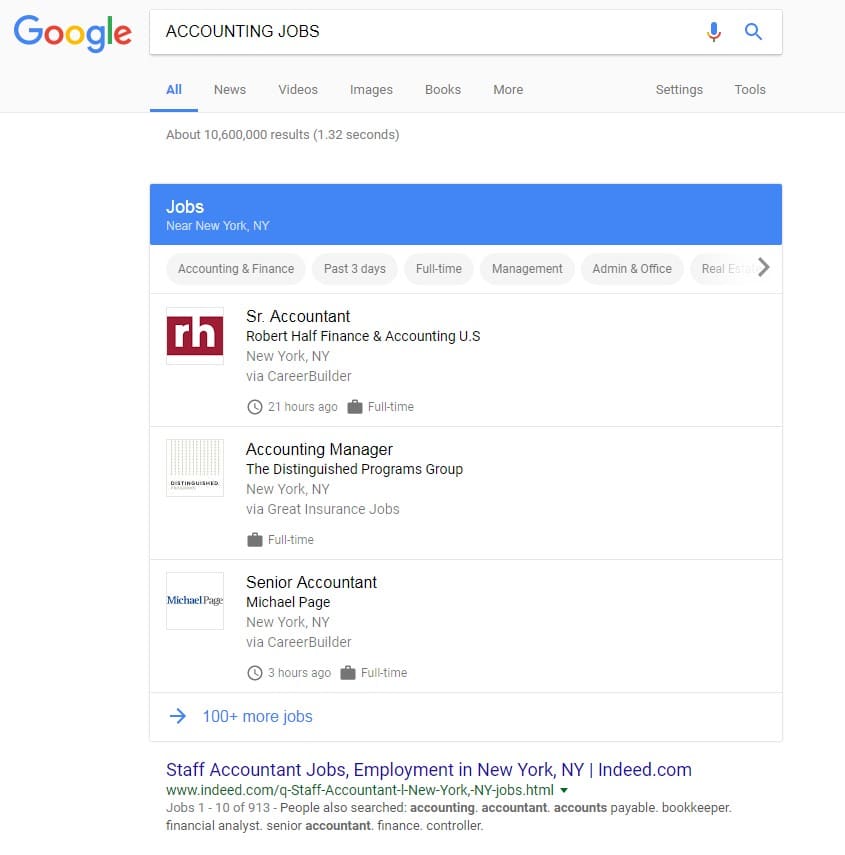 Why Is This Important?
The online recruitment industry is $200 billion industry worldwide, according to Forbes.
Top sites like Monster and CareerBuilder should benefit. Jobs from these sites now show up in Google for Jobs and will continue to rank in top organic search positions.
Google should also benefit. Essentially, Google wants to own all consumer searches – including the relationship between job seekers and candidates. As a result, Google will dominate the market and keep its users on-site longer.
At the same time, most employers still have problems finding qualified candidates. This problem has endured due to factors like bad applicant tracking systems and unqualified candidates.
Google to the rescue.
Google owns about 77 percent of the global search engine market share. Millions of people begin their job searches on the search giant.
Also, Google is using powerful machine learning and AI technology to better understand how jobs are classified and related (semantically). This will help Google provide end users with relevant jobs and filtering technology so jobseekers can find the jobs that are most relevant to their needs. As a result, employers should get applications for open positions from the most qualified candidates.
Everybody wins, right?
If only.
How Will This Impact Your Job Board or Recruitment Site?
Most job boards and recruitment sites depend on the free organic traffic that Google sends them because they rank on the first page of Google for their targeted job-related keywords.
But this could change now. In a big way.
Indeed is one good example of a site getting tons of organic traffic. A majority of Indeed's traffic comes from organic search. Not surprising – it ranks for many job-related queries due to its high domain authority, quality content, and strong link profile.
What's more, people like the site. It has good end user signals because of the content of the job listings. Sometimes Indeed has multiple Page 1 listings for job queries.
Are you like Indeed? Do you have top organic rankings for job-related keywords? Do you depend on Google's free traffic?
Well, your job board or recruitment-related website might soon be in for a little bit of a surprise.
Unless you change your strategy, or make changes that will let Google include your jobs in Google's job index, you may see:
A Decrease in Organic Traffic
The job listings Google for Jobs is displaying takes up valuable SERP real estate. It also pushes the organic results further down the first page. That, in turn, means less organic traffic to your site.
Organic click-through rates are highest at position 1 and decrease exponentially through position 10. The top position gets an estimated 18 to 40+ percent of clicks. You can expect this will change now that Google for Jobs holds the top position for all job-related queries in all industries.
A Decrease in Revenue
Job board or recruitment sites that attract fewer resumes and applications will bring in less traffic. That also means less ad revenue (if you use Google AdSense).
Other revenue streams, like commissions from resume writing, may also decrease. A site that loses traffic will inevitably see revenue decline.
So What Can You Do?
Without the right digital marketing tactics, it will be hard for job boards to stay in business. Hard, but not impossible.
Don't throw in the towel just because Google for Jobs has launched – especially those of you at niche-based job boards.
Also, there is a hidden job market where some positions aren't even posted online. These include job postings that only recruiters see (openings never posted on job boards).
But this could change if Google for Jobs adoption grows among active and passive job seekers.
1. Integrate Your Paid Search & SEO Strategies
Since the organic search results are getting pushed further down the first page, you may want to consider paid search to stay above the fold.

Done right, paid and organic search work well together.
You'll need a large budget.
Some of the costs for high-volume job keywords are very expensive (e.g., insurance).
2. Shift Your Content Strategy Focus
SEO is all about providing users with a positive content experience across all devices and platforms. That's why you must focus on obtaining rankings for keywords through useful content that isn't showing up in Google for Jobs.
Look for salary data or other keywords that signal job-related intent. For example, do some research and see what questions people are asking about salaries (e.g., tips for getting a raise, how to break into digital marketing).
Featured snippets are also dominating the SERPs for some job-related queries. Structure your content in formats that Google is more likely to reward with Featured Snippets. This will help you maximize your traffic and get more job seekers and employers to your site.
Here's an example of a featured snippet for "accountant salary nyc":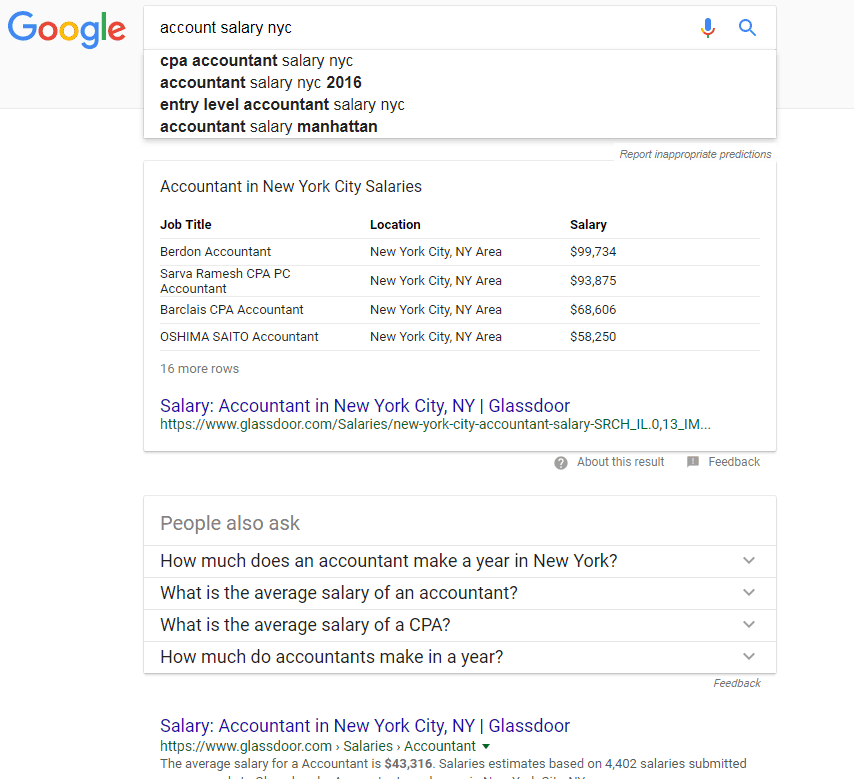 3. Don't Forget About Yahoo & Bing
Bing's (6 percent) and Yahoo's (5 percent) search engine market share (according to Netshare) may seem small. But every month millions of people are searching on these engines for jobs.
Don't ignore Bing and Yahoo. Both search engines don't have any job postings coming up in the top of the search results like Google for Jobs, other than jobs sites that rank for job search queries.
4. Invest in SEO – Focus on Being #1
Being in the top spot in organic search will be more competitive, but it will be a must if you want to still get decent organic traffic to your site.
Focus your efforts on content and social. Build a quality site – one that's meaningful for bloggers, columnists, employers, and recruiters to use, share, and link to.
5. Offer Features Google Can't Give Job Seekers
Maybe it's time for you to focus on building a community. Provide features that Google can't provide job seekers, which could include:
News related to your industry.
Career advice.
Stock information.
Google provides this information, but not in one centralized place. If you could provide this to job seekers in your recruitment portal, it would be invaluable.
6. Integrate with Google
Consider adding JobPosting structured data to increase your exposure. Structured data can help your job posting appear in Google's search results .
7. Posting with Google Partners
If you use sites like Monster or CareerBuilder, it could help your jobs get picked up. This may not be a bad idea if you have the budget.
Final Thoughts
Time will tell how the launch of Google for Jobs will impact the online recruitment industry. And we can expect the industry to continue changing as Google improves machine learning technology.
Will Google be able to provide its users with the most relevant jobs? Will Google help employers find the most relevant candidates?
Google for Jobs will impact the organic traffic and revenue of recruitment sites and job boards. These sites must adapt if they want to survive.
Invest in a sound content and digital marketing strategy. Get optimized and maximize your organic search performance. The time is now.
More Google for Jobs Resources Here:
---
Image Credits
Screenshots by Winston Burton. Taken October 2017.