As TV, radio and print advertising and other traditional marketing channels become less effective; marketers and their agencies are turning to search and social as the gateway to todays consumers. Therefore, developing strategies to better understand consumers and their information discovery patterns is key for delivering relevant messages at the right time and on the right channels.
With Google handling more than 155 billion searches each month, the global search engine has become the de facto consumer destination for answering questions and solving problems. Facebook, on the other hand, is the worlds social share engine, with one billion global visitors sharing what they love more than 36 billion times each month. With the insights from Google and Facebook, marketers can target their customers based on a data-driven map of consumer interests, giving content a network effect that will result in sustained brand engagement, loyalty and sales.
Lets examine how one of these maps might begin to take shape for a B2C product – like tofu. Using the Google Keyword Planner Tool you can research what consumers are searching for from an information gathering perspective. Consider what value your brand can provide in the daily life of tofu-consumer. These are likely people who strive to live healthfully and are seeking new ideas that will help them be successful. By plugging healthy eating into the Google Keyword Tool, we now have an idea of other search terms people key in when looking for content associated with the brands space.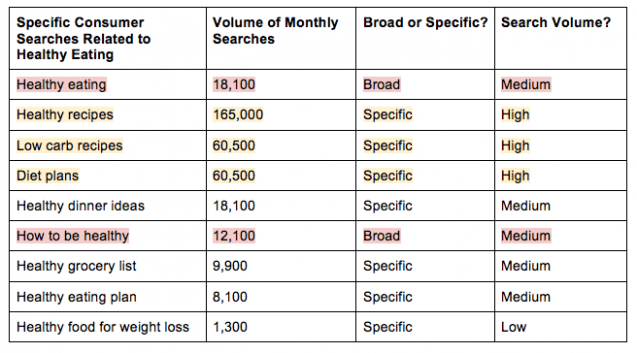 Once you have an idea of what your audience is searching for in Google, note the terms with the largest search volume. These keywords have the potential to bring in the largest audience.
With this information, you can begin to identify strategic content themes that your brand can own.
For a different perspective on consumer interest, research similar terms using the advertising creation tool on Facebook. While healthy eating does not appear as a top area of interest on Facebook, healthy diet is an incredibly popular category, with more than 11 million people claiming the topic as important to them on their social pages. When we input healthy diet, Facebook provides a list of related themes and topics that might also be of interest to a person exploring a healthy diet. Be selective in determining which suggestions from the automated results will fit into your overall content marketing plan.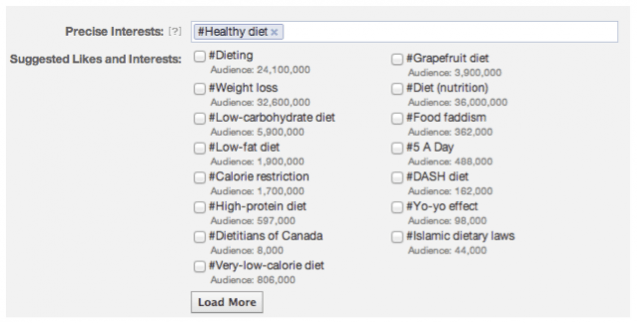 We can now identify from a social perspective that people who are interested in a healthy diet are also interested in dieting, weight loss, high-protein diet, etc. One thing we notice is that the themes presented speak to larger audiences than those we identified on Google.
In comparing the two lists of suggested keywords and themes we can begin to map out how we will create content that speaks to the needs, passions and pain points of the audience who would most likely consider purchasing our product. We can also start to make some decisions on where to invest time and resources in relation to the amount of traffic a particular search term or topic is receiving.

By seeing how the audiences search terms align with social preferences gives us a birds-eye view on the pathway consumers take to learn about our space and pinpoint opportunities to join the conversation. Above, we highlighted similar themes by color to note strong areas of consumers search and social interests. The topics fall into three categories: brand defining, brand aligning and branded. Content for the brand defining space relates to broader lifestyle-related topics and therefore speaks to a larger audience. Brand aligned content, is more related to the brands industry, and draws in a more focused audience. Finally, branded content moves into the center of what the brand is and focuses on the products directly.
Using our tofu example, we can take our learnings from Google and Facebook and begin to draw a data-driven framework for our content marketing efforts.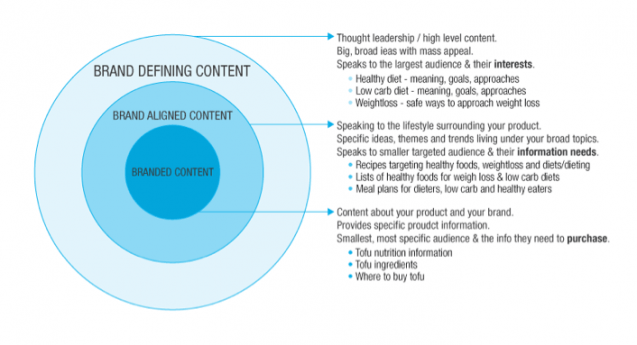 As your content marketing strategy begins to take shape, you can easily optimize content and adapt topics according to consumer interest. While the process may feel overwhelming at first, the massive amount of data available on consumer search behavior and social preference provides an invaluable vat of insight that marketers can pull from to deliver compelling content. By rooting your content strategy in the customers needs, we will more effectively drive awareness, engagement, sales and advocacy for the brands we represent. The more comfortable we get using search and social data to test and tweak our content, the better we will be at offering an experience that is truly exciting for all.