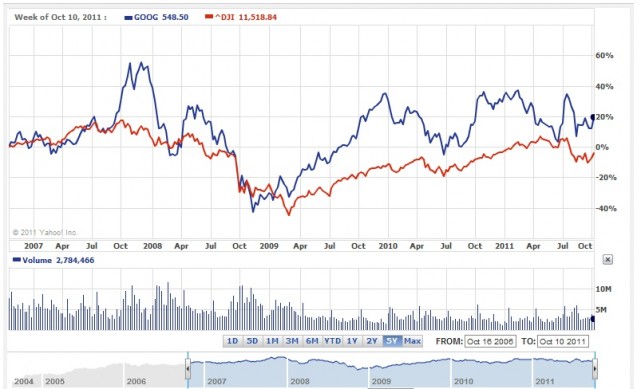 After the markets close today, Google is scheduled to report third-quarter earnings, which will let investors know how Google's core business of search-related marketing is performing. When compared to $7.64 profit per share on $5.5 billion of total revenues during the third quarter of 2010, the estimate (whisper number) of $8.74 profit per share on $7.2 billion of revenue indicates strong growth in spite of investors' concerns related to spending, competition, and anti-trust issues.
Since Google co-founder Larry Page took over the CEO position in April, Google has been on a spending spree. In the six months that followed, the technology giant has acquired multiple companies and agreed to purchase Motorola for $12.5 billion. Although investors are used to Google's high-dollar acquisitions, the Motorola deal was highly unusual – it guaranteed Motorola $2.5 billion if Google decided not to purchase the company!
Facebook, which currently has over 800 million users, continues to gain popularity and some investors are concerned that as users spend more time on Facebook, Google's advertising revenues may fall.
In addition to spending and competition, antitrust issues continue to plague the search engine. Competition, which includes Yelp and Kayak, recently testified that Google is biased towards displaying its own content and that Google is leveraging its "market power" to acquire content from competitors for its own network of properties.
Although spending, competition, and anti-trust issues will continue to be focal points for investors moving forward, Google continues to be a popular investment and an indicator of how other technology stocks will perform. J.P. Morgan analyst Doug Anmuth told Market Watch the following in a note:
"We expect Google to post strong third-quarter numbers on the top line as strength in the core search business continues, while display likely provides an opportunity for upside."
In 21 out of the last 28 earnings reports, Google has exceeded the earnings "whisper number." Whether or not the search giant exceeds this number today, Google must continue to innovate and provide an excellent user-experience to continue its growth long-term.
[Sources Include: Market Watch, Yahoo, & Seeking Alpha]