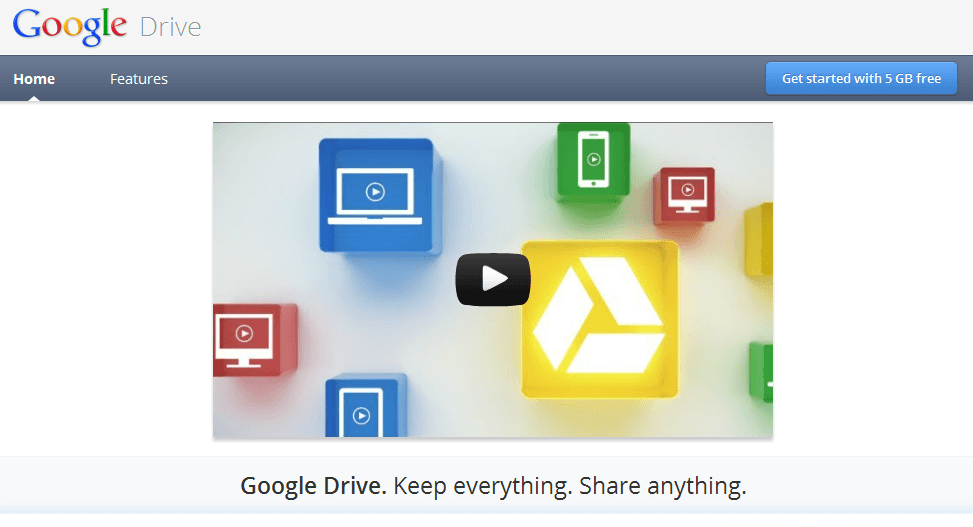 After enduring launch rumors for over six years, the Google Drive has finally launched! Sundar Pichai, the Senior Vice-President of Chrome and Apps, made the long-awaited announcement on Google's blog:
"Drive is built to work seamlessly with your overall Google experience. You can attach photos from Drive to posts in Google+, and soon you'll be able to attach stuff from Drive directly to emails in Gmail. Drive is also an open platform, so we're working with many third-party developers so you can do things like send faxes, edit videos and create website mockups directly from Drive."
The new service, which will provide each user 5GB of free storage space, indicated that users can expect 99.9% uptime. For personal Google Drive users that need more than 5GB of storage, they can upgrade to 25 GB for $2.49 per month, 100 GB for $4.99 per month, or 1 TB for $49.99 per month. In addition, the new storage allotment is also shared with the user's Gmail account. However, for business users, additional storage costs substantially more at $4 per month per 20GB up to 16TB.
One innovative feature of the new Google Drive is the search functionality. In addition to the usual search by keyword, file type, and owner, Drive uses Optical Character Recognition (OCR) and image recognition technology. Now, if a user searches 'Grand Canyon,' Drive will be able to return uploaded photos from last year's summer vacation to the Grand Canyon. In addition, OCR will make it easy to search scanned documents. Once the user finds the file, the new technology will allow them to open over 30 types of files right in the browser window.
Drive is currently compatible with PCs, Macs, and Android phones and tablets. Although Drive does not currently have an app for iOS devices, the blog post indicated that they are working to develop an iOS app in the near future.
So are you ready to switch from Dropbox and other storage solutions to the new Google Drive?
Sources Include: Official Google Enterprise Blog, Google Blog, & Google Drive
Photo Credit: Google Drive