Google is gradually rolling out some new updates to the Google Docs service. These updates will make it easier to share files inside folders as well as make it easier for groups to collaborate and work together on particular Google Docs files.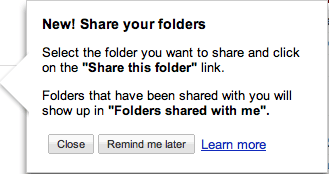 Sharing a group of items or files is now easily done just by putting those items into a folder and then sharing that folder to members of your working group. Once you shared a folder, anything that you add in that folder will automatically be shared. Likewise, if you add somebody to the list of people who can access that folder they can instantly access all the items contained in that folder. This means that you don't have to share files one by one anymore.
In addition to sharing folders, Google has also made it easier to upload multiple items to Google Docs. Google Docs' new upload pages now allows you to choose multiple files and upload all of them together at the same time
Another update on Google Docs has something to do with the "Items Not in Folder." And here are the instances when files are categorized as such:
When you create an new item or an item is directly shared to you, it's in "Items not in folders".
When an item is shared to you via a folder, it's not in "Items not in folders".
When you add an item to a folder, it will no longer be in "Items not in folders".
When you remove an item from all its folders, it will once again be in "Items not in folders".
Lastly, Google has also slightly tweak the Google Docs interface. Some changes on colors, spacing and buttons were made.
Overall, these might just be some minor enhancements but you'll appreciate these enhancements if you are a big time Google Docs user.