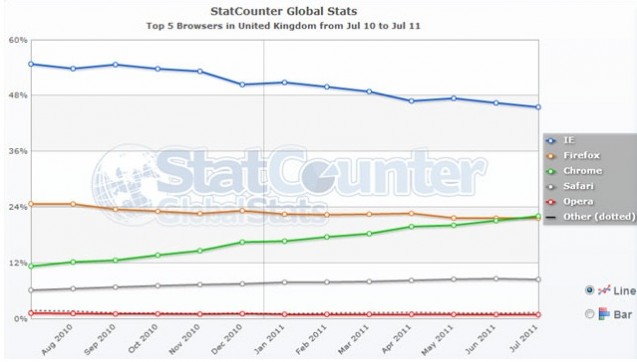 According to a recent report by the StatCounter web analytics firm, Google Chrome is on track to pass Mozilla Firefox's number of users by December of this year. Unless Mozilla Firefox, which is the world's second-most used browser in the world, can put an end to Chrome's rapid growth rate, the Firefox browser era may be coming to a close.
The report indicates that since January of 2011, Chrome has captured an additional 8% of the global internet browser market share. This increase, which represents an astounding 50% growth rate, has increased Chrome's total market share from 15.6% to 23.6%. The simultaneous growth in Chrome's market share and decrease of both Internet Explorer's and Mozilla Firefox's market share indicates that Chrome's growth is at the expense of its competition.
During the same time period that Chrome was rapidly growing, both Mozilla Firefox and Internet Explorer were shrinking. Since the beginning of this year, Mozilla Firefox has fallen to 26.8% of the global market share, a drop of four percentage points. Although Internet Explorer fell four percentage points during the same time period, is remains the most-used browser in the world with a market share of 41.7%.
In an effort to compete with the rapidly growing Chrome browser, Firefox has accelerated its development process and now releases a new version every six weeks. However, it does not appear that the "rapid development" strategy is preventing Firefox users from defecting to Chrome.
If Firefox wants to prevent fulfillment of StatCounter's prediction that Chrome will become the world's second most used internet browser by the end of the year, Firefox must take measures to prevent additional users from making the switch.
[Sources Include: Computer World & StatCounter]