LinkedIn has integrated with Google Campaign Manager, which will allow advertisers to monitor LinkedIn ad performance and get attribution for LinkedIn ads across platforms.
When advertisers activate the integration they will be able to see their LinkedIn ad performance in Campaign Manager (formerly DoubleClick Campaign Manager) and use the conversion attribution capabilities for Sponsored Content campaigns.
Types of Sponsored Content campaigns include:
Video
Carousel
Lead-Gen Forms
Text Ads
"Spotlight" Dynamic Ads
LinkedIn states in the company's announcement:
"This integration highlights our commitment to making LinkedIn's ad platform easier to use by providing the flexibility marketers need to access all their campaigns in one place."
What Does This Mean for Marketers?
Integration of LinkedIn ad attribution with Google Campaign Manager offers the following benefits to marketers:
All reporting in one place: Marketers can now see LinkedIn ad performance alongside all other channels in Campaign Manager. This includes both desktop and mobile traffic in cross-device reports.
Next-level attribution conversions: It will now be possible to understand the impact of all the interactions a prospect has with a business on LinkedIn before converting.
How to Activate the Integration
Advertisers can activate the integration by following the steps below.
Step 1
After creating a Sponsored Content campaign as a "Draft', click the "Manage tracking" bullseye icon to add your Google tracking tags.

Step 2
Add both the impression and clicks tags, and hit "Save". Tags for carousel and video campaign go here as well.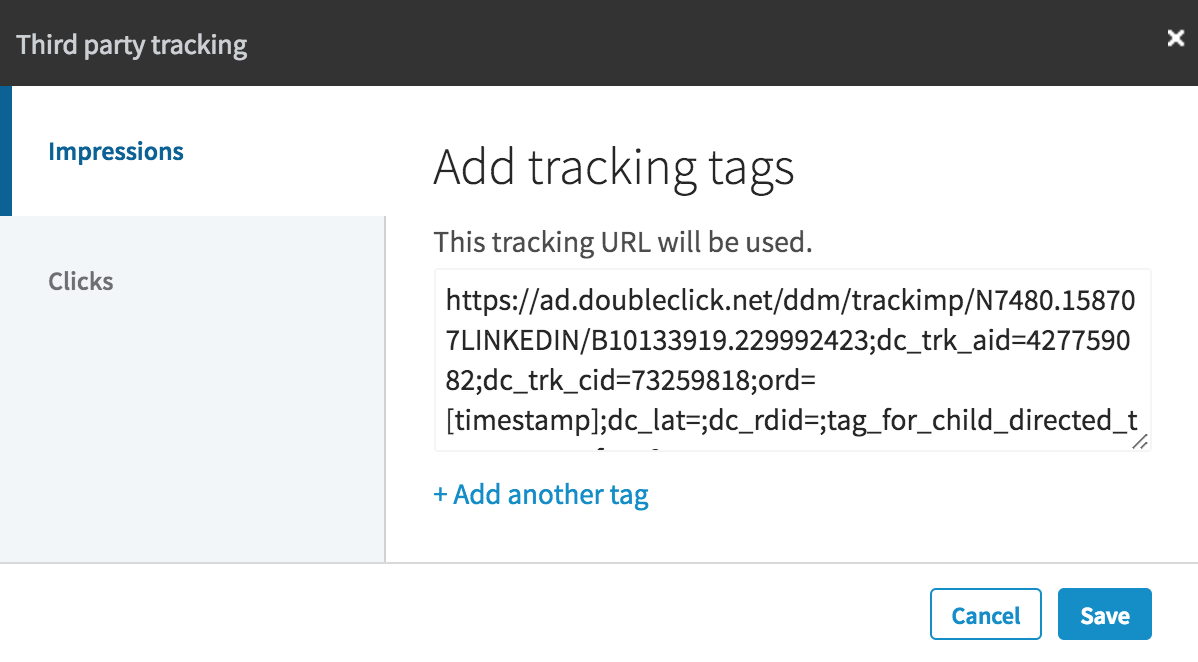 Other Recommendations
LinkedIn strongly recommends using click tags through the method above instead of "destination URL" or landing page URL tracking.
This will allow advertisers to more accurately track all interactions with LinkedIn ads.
After adding a click tag, make sure to remove any existing URL wrappers to avoid double counting.
LinkedIn is working on adding more metrics, such as social actions, and offering more seamless tracking with Google Campaign Manager.