Google has made a significant change to the way its mobile ads work, in order to remedy the so-called "Fat Finger" problem of users accidently clicking on ads while browsing on their phones. The issue is an irritating one for both advertisers and consumers, since it means the former is paying for worthless clicks whilst the latter is redirected to a site he or she doesn't want to be on.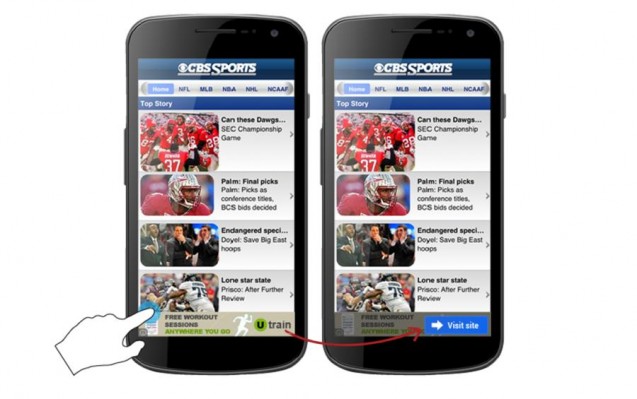 Hopefully then, Google's new solution will be able to rectify these problems and keep both parties happy. The fix is simple enough – if Google is at all unsure if the consumer meant to click on the ad, for example if they click on the very edge of it, a quick prompt will be displayed asking the user to confirm if they do indeed want to follow that link. The prompt isn't invasive at all either, as it pops up inside the ad banner itself. The change is a pretty simple one, but it's one that should cut down on a lot of frustration for everyone involved.
Mobile advertising is difficult in that touch screen interfaces lack the precision that comes with using a mouse, and the disruption caused by accidently clicking on an ad can diminish the whole experience for users. The problem exists with full screen ads too — something that I know all too well about, being an avid gamer. For example the "Scarface" game displays full screen ads following actions in the game that require multiple button taps. As such, it's very easy to inadvertently click on an ad, and not just once but multiple times while playing (trust me, I've done it before).
The latest update has evolved from a previous solution that Google introduced for smartphone text ad banners, which now contain a blue arrow button to one side. Only by clicking on the arrow will consumers be directed to the advertiser's site — clicking on the actual ad itself will not have any effect.
It might only be a small change, but it's good to see that Google is at last taking action to address this problematic issue and provide some more value to its customers, especially in light of concerns raised on SEJ yesterday that the Google Instant feature might be inadvertently swindling advertisers in other ways.
Images via Google Blog