Google continues to improve its Analytics service by introducing some more great features namely – annotations, custom variables, new tracking code setup wizard and a new version of the Google Analytics API.In brief, here's what each of these new features will let you do on your Google Analytics account.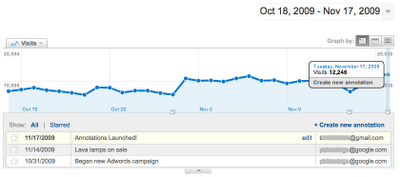 Annotations – Lets you leave shared or private notes right on the over-the-time graph of any Google Analytics account which you have been granted access to. This is useful for company analytics account which is being shared among several members of the company. Each of these members can leave comments whenever a significant spike or downturn is experience by the company's website as recorded by Google Analytics.
Custom Variables in Advanced Segments – Lets you create advanced segmentation based on any key, value or a combination of all custom variables. You can see this advance segment across all your Analytics report.
Custom Variables in Custom Reports – lets you create custom reports with any of the key or value dimensions that are associated with any custom variable. This is useful for seeing how a custom variable segment behaves on Google Analytics' metrics.
New Analytics Tracking Code Setup Wizard – automatically generates appropriate tracking code based on the setup options you specify.
New Google Analytics API – new features will be announced later this including support for advanced segmentation.