Every website owner needs to be using Google Analytics. It's what helps us identify our problems, successes, and future content opportunities. The amazing Google did it again. They just came out with real time reports for 'Events'. This allows those of us, who are Analytics fans, to get a better idea of what is happening right now on our websites. It's like tuning in for a TV show. Some webmasters are pretty excited as they'll be able to quickly identify problems and successes; rather than having to wait several hours.
The new features are:
Shortcuts for your important real-time segments

Comparison real-time to overall data

Content Breakdown by Device (mobile, tablet, desktop)
Real-time Events Report
1. Real-time segment shortcuts

We all know that there are certain segments that interest us more than others. Here we have the opportunity to create shortcuts to our favorite segments without having to create the filters each time. Such a time saver!
2. Comparison real-time to overall data
This feature is just fantastic. We can now analyze pageviews and overall traffic side by side. Google is allowing us to create filters here. This will allow us to look at where the pageviews are coming from and see its direct impact on our traffic numbers.
3. Content Breakdown by Device (mobile, tablet, desktop)
This is by far my new favorite Analytics perk. Knowing where my visitors come from allows me to identify opportunities and problems with my content. Each device brings with it a certain type of behavior. People on desktop act differently than those who use their phone or even tablet.
Google will tell you which percentage is coming from which device. 🙂
4. Real-time Events Report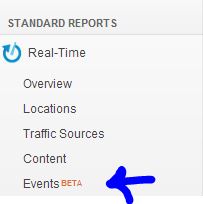 To have access to this area, click on events under standard reports. (Just like the picture to the right) This will give you the ability to see the events as they happen. Watching them happen will help you know more about the visitors taking those actions.
You'll want to set up Event Actions,Event Labels, and filters to make this happen.
Conclusion
Google is still innovating the way we see the data on our websites. These new features will most certainly help us have a better idea of what is really happening on our website. It will help us identify areas for improvement.
What do you think of the new changes?