A bug in Google Analytics is causing no data to be shown within the "Users" segment in some accounts.
This issue was brought to my attention by Joe Youngblood, an SEO who tells me he has encountered the problem in the GA accounts of over a dozen sites.
"On over a dozen client accounts when trying to compare 2018 vs 2016 within the "Users" segment the entire data chart flat lines and shows nothing but zeroes throughout."
He sent along screenshots showing that the problem occurs when comparing data, but apparently not when the data is being viewed on its own.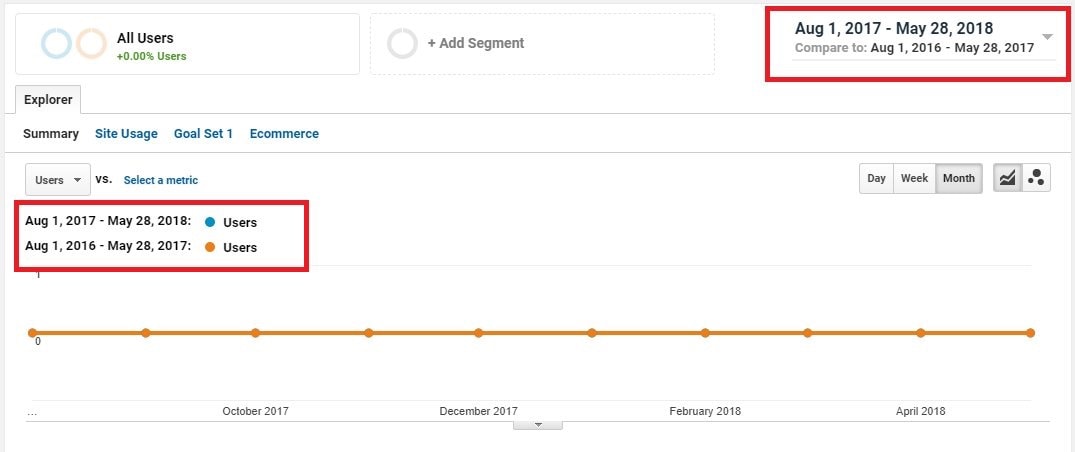 Youngblood goes on to say he encountered the issue on the day GDPR went into effect, and it is affecting accounts that have been set to not have their data automatically expire.
"This started on GDPR day and seems to be creeping forward at the 26 month pace. The data retention settings mentioned losing the ability to compare or see Users metric data from years past. All of these accounts set the data retention to 'do not automatically expire'."
The problem seems to be getting worse, as Youngblood says he recently found an account where the "Users" metric has been completely removed from the options.
Marie Haynes reports that she has encountered the issue as well:
Yup. Happening in every account, regardless of our data retention settings. I can still see traffic data if I look at the overview, but if I drill down to Google organic traffic in acquisition –> Source/Medium it's all gone once I put in a date beyond 2 years.

— Marie Haynes (@Marie_Haynes) May 29, 2018
However, there are users reporting they cannot duplicate this exact issue, and the issue has generally gone under-reported thus far, so your mileage may vary.
Actually, I can't duplicate exactly what you're seeing, but I was seeing no data or flat bars in Acquisition the other day when looking in 2016 and before.

— Bingham (@BinghamForReal) May 29, 2018
Google has so far not responded to the multiple tweets sent by Joe Youngblood, and others experiencing the same issue.