Just a quick update to inform you that if you're using Google's product search, whether on your computers or mobile devices such as iPhone or Android phones, you can now check whether a particular product is in stock on a store nearby. You can check out the product's availability by clicking on the "blue dot" included in the search results.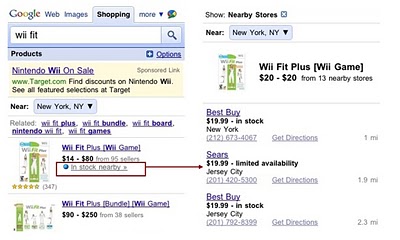 This is particularly useful if you're out on the street and saw something which you might want to buy. You can just search for the product on your mobile phones, and if Google mobile search returns a search result with a blue dot, you can check it out to find out where you can buy the product. You can also see the distance of the nearest store from your current location.
Some popular retailers are already participating in the said feature including Best Buy, Sears, Williams-Sonoma, Pottery Barn or West Elm.
To try this feature, point your iPhone, Palm WebOS or any Android phone to google.com, tap on the "more" link and then choose "shopping" from the options. Alternatively you can check out the "shopping results" section from the Universal Search results provided by Google mobile search.