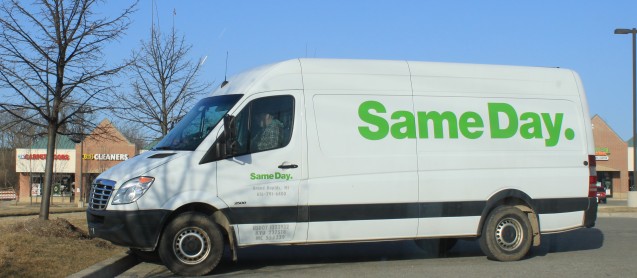 Wikipedia Commons
If you live in the Bay Area, you might be relaxing at home in your pajamas ordering all sorts of goodies and waiting until Google drops it off within the same day. If you haven't heard, the tech giant is making life all that more instantly gratifying by expanding its same-day delivery service. Google is by no means the only company offering this kind of service, but it's Google, so this makes it kind of a big deal. What's really interesting is that it's taken so long for more companies to explore this area in retail. I mean, how difficult is it to have a product delivered on the same day that it's been purchased?
For starters, it's not as easy as it sounds. There are a lot of planning and logistical issues to iron out, such as mapping out effective delivery routes. Not to mention the cost of trying to ship a product from a warehouse to your front door in the same day. Does anyone remember Kozmo.com? That was the company that comically tried to ship products in major cities via bike messengers for free and within an hours. Sounds good on paper, but it just wasn't an effective model. Which is why the company tanked.
The other concern is that people may not really want this service. According to a study conducted by Boston Consulting Group, only 9% of the 1,500 U.S. consumers surveyed "cited same-day delivery as a top factor that would improve their online shopping experience, while 74% cited free delivery and 50% cited lower prices." With the exception of some city dwellers with a little extra cash, same-day service isn't a priority.
Regardless, companies are going to continue to experiment with this service. For now, people in the Bay Area can order products from businesses like Walgreens, Nob Hill Foods, Staples, Blue Bottle Coffee, Target and Palo Alto Sport Shop and Toy World and have everything shipped by Google for $5. If this works out for Google, expect the following 6 companies to expand their same-day delivery service.
6. Wal-Mart
The behemoth launched its own same-day delivery service just in time to the holiday season in 2012. Costumers can order products from Wal-Mart and have them delivered to their home for between $7 and $10. The service is available in northern Virginia, Philadelphia, Minneapolis, Denver and the San Jose-San Francisco-area.
5. Shutl
Shutl was a startup that originated in the UK and is similar to Google's service, meaning you shop online and Shutl handles the delivery. The company claims that they're "the world's fastest, most convenient and best-loved same-day and same-hour delivery service." Shutl is only available in Manhatten, but there are plans to expand to San Francisco, Atlanta, Boston, Denver, Detroit, Houston, Los Angeles, Miami, Minneapolis, Philadelphia, Phoenix, San Diego, Seattle, Washington, Montreal and Toronto.
4. eBay
The auction giant launched its delivery service, eBay Now, last year and charges $5 per store. What makes eBay's service standout, besides the one-hour delivery time, is that the company focuses on local stores, however, you can still get stuff from major retailors. eBay Now is available in San Francisco and New York.
3. TaskRabbit
TaskRabbit was designed specifically for people who don't have the time, or capability, to do their shopping. But, this service offers so much more than just having your groceries brought home. Businesses can use TaskRabbit to order and have supplies delivered to the office. There's also the ability to find house-cleaners or handymen to do those things around the house that you just can't get to.
2. Amazon
Amazon are no strangers to same-day delivery service. The online shopping titan has offered Local Express Delivery Option since 2009 and can be found in Baltimore, Boston, Chicago, Indianapolis, Las Vegas, New York, Philadelphia, Phoenix, San Bernardino Area, Seattle and Washington, D.C. The service costs $8.99 plus plus 99 cents an item.
1. Postmates
This startup takes the same-day delivery service to a whole new level. For example, after placing an order, you're sent a photo and bio of your delivery person, aka you 'Postmate'. Postmates also will inform you if a product is right around the corner, becuase that would be pointless for everyone, and they'll also hook you up with all kinds of stores and restaurants in your neighborhood via Foursquare.
There you have it. If you're looking to be a hermit and not step outside, then check out one of the following services. And, if you've used one of these sites in the past, we'd love to get your feedbaack. Was the same-day delivery service worth it? Or, can you remain patient?