Google released their +1 button for websites back in June, and since that time webmasters have eagerly been adopting the new social sharing button. Despite a fairly low user response when compared to Twitter or Facebook, Google has seen adoption of the button on more than a million websites. Those sites get more than 4 billion total daily views.
Now that button is even more valuable. Google has added two key features: sharing on Google+ and "+snippets."
It's been expected for some time that Google would be integrating the +1 button with their social network. Now we're seeing exactly the form and function of that integration. Users who +1 a page will now see a "share" option when they hover over the +1 button. This allows them to share a link to the site, their commentary on it, and a snippet from the page with a few easy clicks.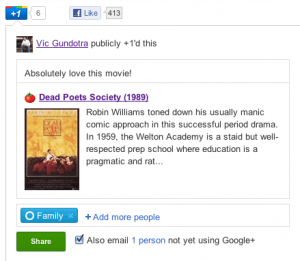 +Snippets is the excerpt from your site that's shared by default. Along with the new social sharing, Google is now allowing webmasters to customize their snippet. The rich markup to do so can be checked on schema.org, but the key attributes are the itemtype tag added to the <body>, the itemprop="name" option to provide the snippet title, the itemprop="image" option to provide the snippet thumbnail, and the itemprop="description" option to provide the text pulled into the snippet.
Webmasters would be wise to both encourage visitors to share through the +1 button and to ensure that the snippet shows the images and text that best serve your site.
[Sources include: The Official Google Blog]