Couldn't decide on what to get for your techie friends who got almost all the gizmos released this year? Google has a solution for that. How about giving them the gift of Google Chrome instead?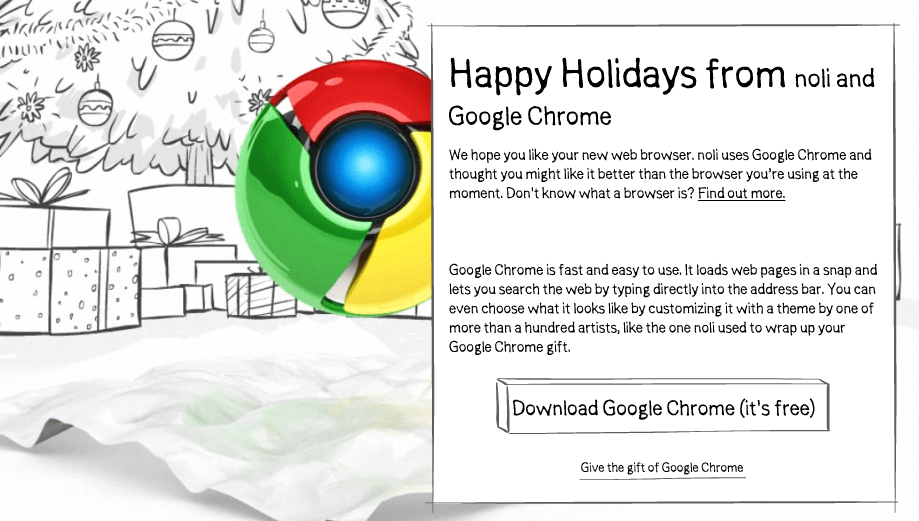 Google quietly rolls out this new marketing campaign for its Chrome browser. It's actually a neat and clever way of marketing the Chrome Browser, tying it up with the Christmas festivites.
The idea is, you as the gift giver can prepare an interactive online greeting card introducing Google Chrome to a friend. The link goes to your friend's email which if he clicked will lead him to a site where he will be introduced to Google Chrome. You can customize the Christmas greeting by putting your photos or attaching your videos to the electronic Christmas card as well as type in a personalized message. Of course the bottomline is that Google hopes that your friend who believe you so much will download Google Chrome.
It's really a neat and clever idea, although the site doesn't load so fast which is ironic since Google is promoting Chrome as a fast browser.
I hope my friends would not even think of sending me this gift since I've been using Google Chome since it was first launched. I have it installed in my desktop PC, Mac and Eee PC netbook. I would prefer an iTunes gift card or Amazon GC instead.