Interacting between both students and faculty is convenient and easy with the Market Motive social media course I am taking. I know some of you are reading this thinking "I would hope people would be interacting within in a social media class because after all, isn't that where the social part comes from." Let's not jump to judging and assume that everyone who enrolled is familiar with social networking. I won't even assume everyone in the class knows how to take an online course. There is a good chance those enrolled, or those of you out there who are considering enrolling may have never taken an online course before. Interacting online is important for beginners as well as for those who are more advanced.Communicating is simple with Market Motive because despite your level of comfort with the social media curriculum and taking an online course in general, there is an option for getting assistance, keeping up, and getting ahead.
Ways to get connected in a Market Motive Online Course:
1) Weekly Faculty Conference Calls
Each week, individual faculty members host office hour style conference calls with students. The faculty instructors are very patient. The calls help make sure we are learning the most current social media practices and are able to assess recent changes in the marketing landscape. There is a date and time as well as a dial in number that is sent to all the student e-mails. The conference calls are optional but very helpful because given that it is an online course, having the opportunity to vocalize with all the students is often beneficial for various reasons.
2) Market Motive Follow lists
My Social Media course has a Twitter follow group for both faculty and students.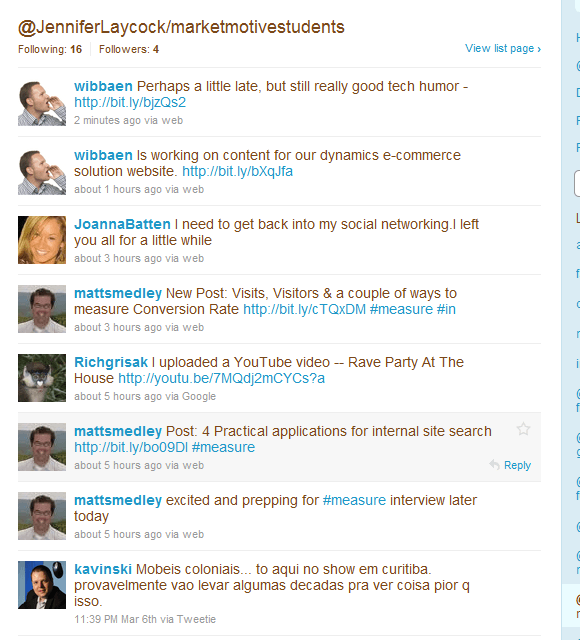 3) Group e-mail option
There is an e-mail address that will send out all of its received messages to the entire class. This is a great way to get a hold of all the students very quickly.
4) Forums
For those late night questions that can't wait for the next conference call, students are provided with a faculty monitored forum where all answers are guaranteed to be authoritative. I've noticed that most questions are answered in a few hours either by the faculty or by former graduates. Because the forums are private to members, the sharing is quite open and the answers are immediately applicable to our projects or to real-life marketing. Many of the SEJ readers may be familiar with forums, and know the power of participating in one. Anyone can ask questions or suggest a topic for discussion. If a specific week has a popular social media topic, then forums are a remarkable place for group thoughts, opinions and debates. I love forums because they allow students to get answers to questions and get feedback on things they may have been hesitant to ask themselves. Students can create personal profiles with avatars, information about themselves, and websites they own, to keep up with who exactly it is they are talking to.
5) Ability to view and comment on other student assignments
Assignments for the social media course are to be completed after the required video viewings. Faculty and students can click on my assignments which I publish and they can view my work and comment on it. This has been useful to me for a few reasons. First of all, if I don't really understand an assignment or I just want to see how somebody else completed it, I am able to view other students completed work. Secondly, the instructor has commented on my assignments each week in great detail. Sometimes, the instructor has said the topics I was writing about were very interesting and have requested I go into more detail.
6) Workshops
Workshops are optional but are a beneficial addition to the general course material. The Market Motive website has a tab dedicated to workshops taught by the faculty chair. These are really nice because all Market Motive students can access every workshop across all six disciplines despite what discipline the student has paid to participate in. (SEO, Social Media, Web Analytics, PPC, Online PR and Landing Page Conversion). The workshops can be very helpful in advancing your personal social media networking and marketing. Here is an example of an upcoming workshop:
As a social media student, I love that I can get on the phone with Avinash Kaushik and learn Web Analytics (how to measure my social media campaigns) or Bryan Eisenberg.
Next week, I'll fill you in on my first testing experiences with Market Motive.