Google continues to shower mobile phones running its Android OS including its own Nexus One phone with great features one after another. Previously it just made the cool Gesture Search available for all phones running Android OS version 1.5+. And now, Google Maps for Mobile has just been updated to version 4.1.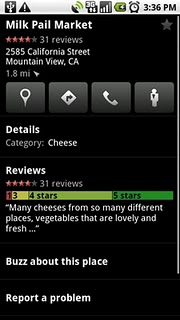 The first new feature that has been added to the latest version of Google Maps for Mobile is search n' swipe. First, the Maps for Mobile search results pages now displays all the information related to your search. This was previously displayed as tabs. There are also new buttons that you can tap on and will show you places on the map, directions in getting to those places and even option to see those places in Street View.
The new mobile search results page also now makes it easier for you to navigate through various information about particular business establishment that you see on the map. You can swipe of the results page to the left or right to navigate between pages that will yield more reviews, ratings, buzz and all.
Another new feature is the Latitude Widget and Live Wallpapers for Nexus One and Android 2.1 devices. You can add live Maps widget to your phone's home screen to make it easier for you to access Google Maps for Mobile. And for Nexus one and Android 2.1 phone users, you can now also use those live, real-time updating maps as your phone's wallpaper.
The last of the new features of Google Maps for Mobile 4.1 is support for multiple Google accounts. You can now switch between Google accounts that you want synced from your computer to your Android device.