The results of a study conducted by Edelman, the world's largest public relations firm, were released today revealing the roles of major brands in the lives of Generation Y. Part of a global initiative to help brands engage online, EDELMAN 8095, the study shows not only the strength of the so called Millennials, but also how the recent recession has affected 20 & 30 somethings.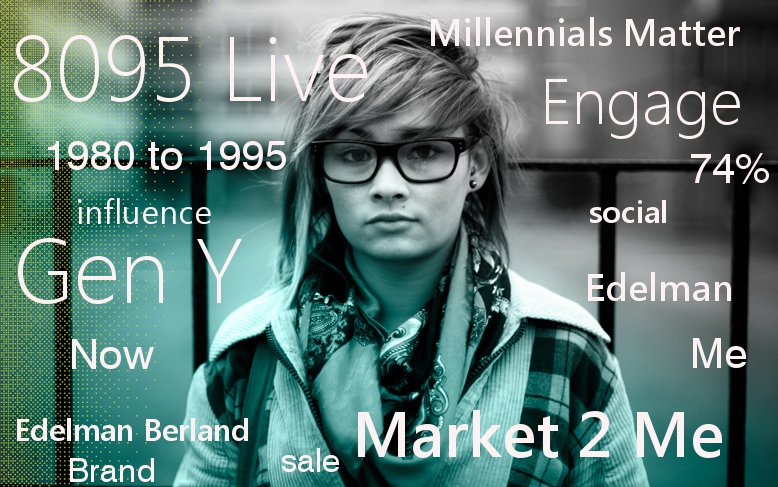 The news today actually builds upon an Edelman benchmark study, 8095® . carried out back in 2010. This research, 8095® 2.0, used data gleaned from the some 4,000 Millennials in 11 countries to shine the spotlight on variables like purchase decision influence, brand engagement and recognition, and most interestingly how the global recession has fundamentally changed this generation of consumers.
The Edelman study basically takes the 2010 8095® findings and compares them in interesting ways with version 2.0. Accordingly, a crystal clear shift in perception has come about for Generation Y people. While Gen Y people are still optimistic and even idealistic, the study shows a new reality taking shape for consumers born between 1980 and 1995. We talked with Edelman a few minutes ago, to wit Alex Abraham, director of the 8095 Insights Group at Edelman offered this statement about their research:
"We live in a world of significant cross-influence between consumer groups. Our 8095 research shows us that Millennials in particular may be heavily influencing the purchase decisions of those in other generations, including their Boomer parents. Millennials are more likely to start trends and be vocal advocates of those trends, so we see parents mimicking what their kids are buying and sharing. This is one reason why we believe that all brands need to consider Millennials as a core target, or at least as a key influencer to their target. "
Compared with Generation X and even the so called Baby Boomers, Gen Y constituents actually represent a much larger group. The generation is also far less clearly defined than others, far more digitally aware, and imminently reachable if approached correctly. Part of the Edelman work is obviously focused on learning best approaches and communities too, so it's completely logical to assume social networks play a pivotal role for marketers selling to Gen Y.
Edelman believes that the best strategies for reaching Millenium consumers is via ongoing dialogue. To this end, it's significant to note that Edelman has created 8095® Live, their own proprietary community. An initiative of the global strategic research and analytics arm of Edelman, this live community consists of 500 U.S. Millennials born between 1980 and 1995 that brands can actually engage with their queries. As for the data gleaned from 8095® 2.0, here are the high points:
Effects of the Great Recession – The global recession fundamentally changed Generatin Y in that unlike previous generations still extent, Millenials are focused on the economy more. The job, market, recovery, things like owning their own businesses, and in general financial stability seem acutely important to Gen Y members.
Millennials are so called alpha-influencers, or at least think they are. About 70 percent feel they are responsible for sharing via Facebook and other SM about brands – good and bad.
Gen Y peeps seems truly open to brand engagement and even advertising, compared with other groups. Interestingly, only about 3 percent of Millennials thinks all advertising is boring. Almost amazingly, the vast majority of Mellenials think brands should entertain them too.
The median age of our planet is about 28, so something on the order of a billion people fall within the Millenial or Generation Y demographic.
For more insight into the work Edelman and Edelman Berland is doing, the interactive embedded below shows a lot more about this study and the overall commitment to research the PR firm has made. I can also suggest you check out Edelman Berland's Facebook aspect for cool infographics and to get wired into this Millennial Generation. You may even find an old "Boomer" there if you look hard enough.